One of my hubby's favorite desserts has always been tiramisu. Anytime we go out to a restaurant that has it on their menu, he always orders it for us to split. Because of this, I have made several types of tiramisu themed treats such as brownies, trifles, etc. However, we had never made an actual tiramisu on our own.
Last weekend, he decided it was time and ran up to the store for all the ingredients. He had it ready for the fridge in no time and that evening, when we finally cut a piece to try, it was amazing! Definitely one of those desserts we will be making again…..and soon!!
The next evening it was even better, since it had had more time to soak up the coffee and soften up. If you love tiramisu, definitely try this recipe! Authentic, simple, and flavorful….you'll love it!!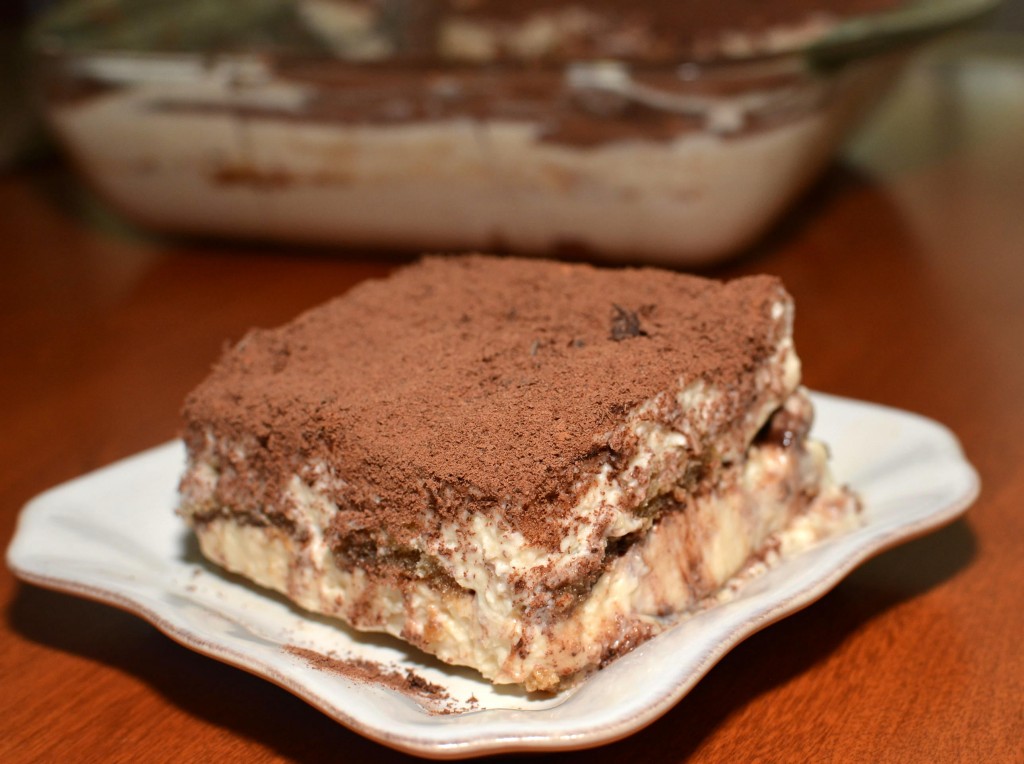 Ingredients:
16 oz mascarpone cheese
1 cup heavy whipping cream
1/2 cup sugar
3 tbsp. Kahlua
20 lady fingers (typically found in bakery)
2 tbsp. cocoa powder, divided
3/4 cup strong coffee, cooled
1 oz bittersweet chocolate, grated
Directions:
Chill the heavy whipping, 2 bowls, and beaters for about 20 minutes.
Pour cream into one bowl and whip until stir peaks form.
In a separate bowl, blend cheese, sugar, and Kahlua until smooth.
Fold in the whipped cream.
Dip each lady finger into the cooled coffee making sure each lady finger is completely damp.
Place half the lady fingers along the bottom of an 8 x 8 baking pan.
Cover with half the cheese mixture.
Sprinkle 1 tbsp. cocoa powder on top of the cheese mixture.
Repeat layers one more time ending with cocoa powder.
Sprinkle grated chocolate over cocoa powder.
Refrigerate for a minimum of 30 minutes before enjoying!! Keep refrigerated!