Growing up, I was never really a big fan of hot dogs. If I was at a picnic or BBQ, I always chose to have a hamburger, rather than hot dog. On the rare occasions I did eat one, it had to be drenched in ketchup and cut into bites, rather than eaten in a bun, weird right?? However, the day I had my first chili cheese dog, I knew, that was my favorite hot dog dish! Yum!! The chili, cheese, onion, and hot dog, all combined, make an amazing flavor!! My family had these for dinner the other night and all three of my kiddos loved it and ate everything on their plates!! With summer coming up, this would be perfect for a get together with friends/family!! This is also a great dinner to make on nights where you are pressed for time. I had made a big batch of chili a few months back and placed the leftovers in the freezer, all I had to do was thaw the chili and grill some hot dogs!! Enjoy!
Ingredients:
6 hot dogs (more or less depending on how many you are serving)
Hot Dog Buns
1 onion, chopped
Cheddar Cheese, shredded
Directions:
Prepare a batch of our Game Day chili according to recipe directions.
Grill hot dogs for about 7-8 minutes, or until cooked through.
Place cooked hot dog in a hamburger bun.
Pour chili on top of hot dog, followed by chopped onion and cheddar cheese.
Enjoy!!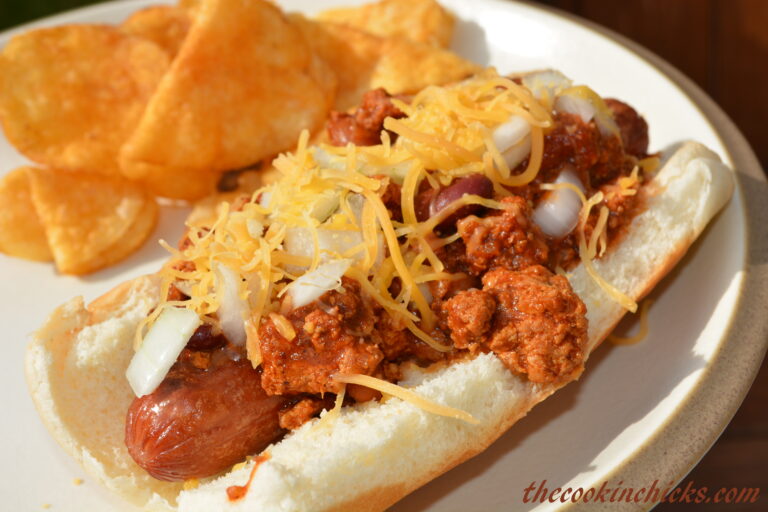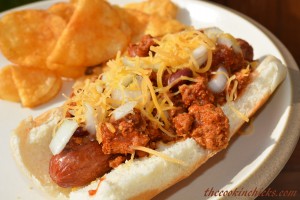 [AdSense-A]