A few weeks ago, my family headed over to Grammy and Pop Pop's house. My mom, aka Grammy, made these for the kids. Not only were they super easy to make, but they were a huge hit. There ended up being tons leftover, and I took them home to freeze for another dinner. My hubby went on a business trip a few days later, I pulled these out of the freezer and dinner was served!! I definitely recommend these for those busy nights!! They freeze perfectly if you want to make them and eat them later!!! Either way, these are sure to be a hit!!
Ingredients:
2 cups cooked chicken breast, diced (you can also use turkey breast)
1 can cream of chicken soup
1 cup frozen mixed veggies
1 cup cheddar cheese, shredded
1/2 tbsp dried thyme
1/2 tbsp dried basil
1 tsp onion powder
1 tsp garlic salt
2 cans (10 oz) Pillsbury biscuits
Directions:
Preheat the oven to 400. In a large bowl, combine the cooked chicken (or turkey), cream of chicken soup, frozen veggies, cheese, herbs, and spices. Lightly grease a 12 cup muffin pan. Place one Pillsbury biscuit in each cup, pressing into the bottom so it covers up the sides as well. Evenly spoon the pot pie mixture into each cup. Place pan in the oven and bake for about 12-15 minutes. Remove from oven and serve!!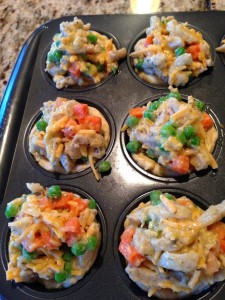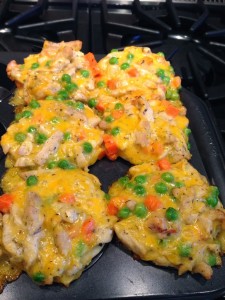 [AdSense-A]