Growing up, my mom always made her hash brown potato bake for all Holidays and when we had company. It was always one of my favorite dishes, and everyone always went crazy over it. When I posted the recipe a while back, several people made the suggestion to add ham to it, and make it a complete meal. Both my mom and I thought, "what a great idea", so we decided to try it!! This past weekend, my brothers family came over to my parents house (where my family is currently visiting), so there were 12 people here! My mom had all the ingredients to make this and decided to throw it together for lunch. Not only was it a huge success, but it just may be my favorite version of the dish. Crunchy cornflake topping, cheesy potato mixture, with diced ham throughout makes this perfect for any occasion. Bring to a friend or family member, church picnic, potluck, outing, or for having company over. This casserole has also been referred to as "funeral potatoes", in case you know it by that name.
Thanks to everyone who gave their amazing suggestions for changing up the original recipe. I love trying new variations on family favorite recipes!! Enjoy!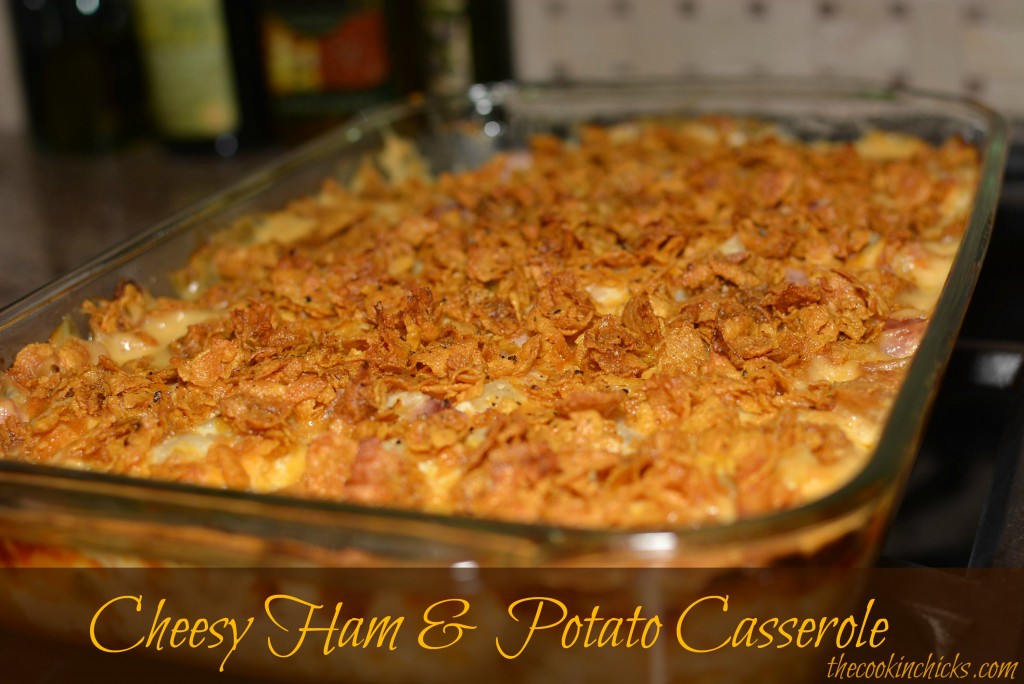 Ingredients:
1 can cream of chicken soup (10.5 oz can)
1 pint sour cream
Salt/Pepper to taste
10 oz cheddar cheese, shredded
2 lbs frozen hash browns (O'Brien)
1/2 cup chopped onion
2 cups cornflakes cereal
1/4 cup butter, melted
2 cups diced ham, cooked
Directions:
In a large bowl, combine the cream of chicken soup, sour cream, salt, pepper, cheddar cheese, hash browns, onion, and diced ham.
Spread mixture into a greased 9 x 13 baking pan.
In a small bowl, combine the melted butter and cornflakes.
Sprinkle mixture evenly on top of potato mixture.
Bake in a preheated oven, 350, for about 40-45 minutes.
Serve!!