To me, nothing screams "summer" more than banana pudding. Its refreshing, a crowd pleaser, doesn't heat up your kitchen to make, and "light" tasting!!
A few weeks ago, my family went over to my parents house to have lunch after church. My brother and his family came too, so I decided to bring this pudding over as a dessert to enjoy! Not only did all the adults go crazy over it, but the kids LOVED it too! Everyone scraped their bowls clean and even wanted seconds!
Not only did this take no effort to make, but it is also an inexpensive dessert to make! Since it makes a full 9 x 13, there is plenty to go around!
You can even save on time and make this the night before!!
Enjoy!!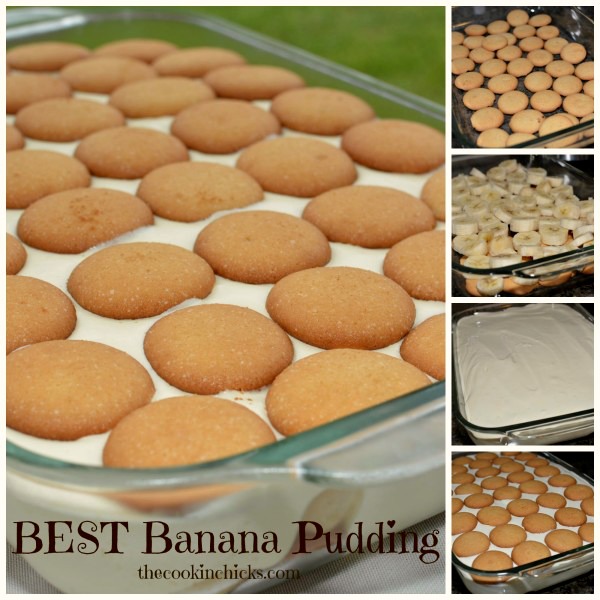 Ingredients:
1 box Vanilla Wafers
6 bananas, sliced
2 cups milk
1 (5 oz.) box French vanilla pudding
8 oz. cream cheese
14 oz. sweetened condensed milk
12 oz. frozen whipped topping
Directions:
Line a 9 x 13 baking pan evenly with a single layer of vanilla wafers.
Place banana slices over layer of vanilla wafers.
In a bowl, combine the milk and pudding mix blending well with an electric mixer.
In a separate bowl, combine the cream cheese and condensed milk until smooth.
Fold the whipped topping into the cream cheese mixture.
Add the cream cheese mixture to the pudding mixture and mix well.
Pour the pudding/cream cheese mixture on top of the bananas and cover with remaining cookies.
Refrigerate until ready to serve! Enjoy!