This summer, I have really been focused on making new recipes, trying new foods (aka more seafood and vegetarian), and including more grilling options in our meal plan each week. Living in Houston, it has been averaging 100 degrees lately, so I am definitely grateful for grilling and not having to heat up the kitchen!
Last week, I wanted something light tasting, healthy, and decided on these fish bowls. My hubby and I thoroughly enjoyed them, and even my kids liked theirs. The fish was seasoned perfectly and the flavors were perfect together! This dish is packed with protein and is quick to prepare!
Hope you enjoy!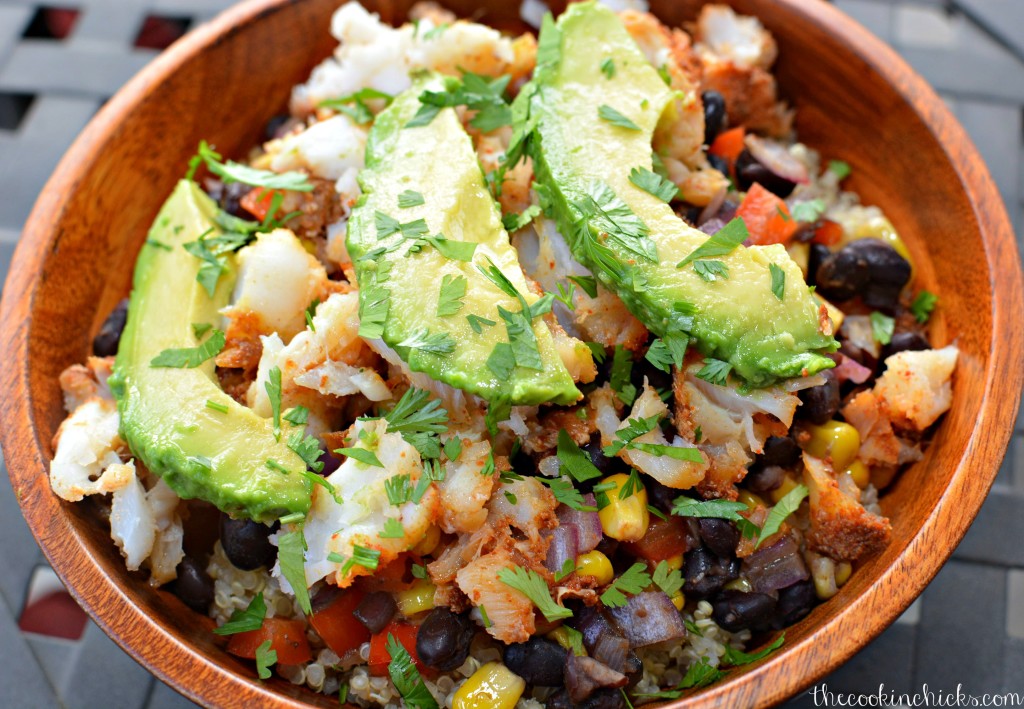 Ingredients:
2 teaspoon chili powder
2 teaspoon cumin
1/2 teaspoon garlic powder
2-3 cod fillets
Salt/Pepper
1 red onion, chopped
1 red pepper, chopped
1 cup corn
15 oz. black beans, rinsed/drained
2 cups cooked rice (or quinoa)
Avocado, sliced
Cilantro, chopped
2 tbsp. lime juice
Directions:
In a small bowl, combine the chili powder, cumin, garlic powder, and some salt/pepper.
Season cod fillets evenly and place on preheated grill.
Allow fish to cook several minutes on each side, or until opaque throughout and easily flaked. *You can also cook in a skillet with some olive oil.
Remove fish from heat and set aside.
In a skillet, add a bit of olive oil and sauté onion, red pepper, and corn for about 5 minutes.
Add in the black beans and heat for an additional 2-3 minutes.
To assemble fish bowl, place rice/quinoa on bottom of bowl. Top with bean mixture, flaked fish, avocado slices, chopped cilantro, and some lime juice.
Serve and enjoy!!
Recipe adapted from: The Live in Kitchen