This Chocolate Raspberry Mousse Cake is rich, flavorful, and quite the sweet treat! Flourless chocolate cake, decadent raspberry mousse, and creamy chocolate mousse combined!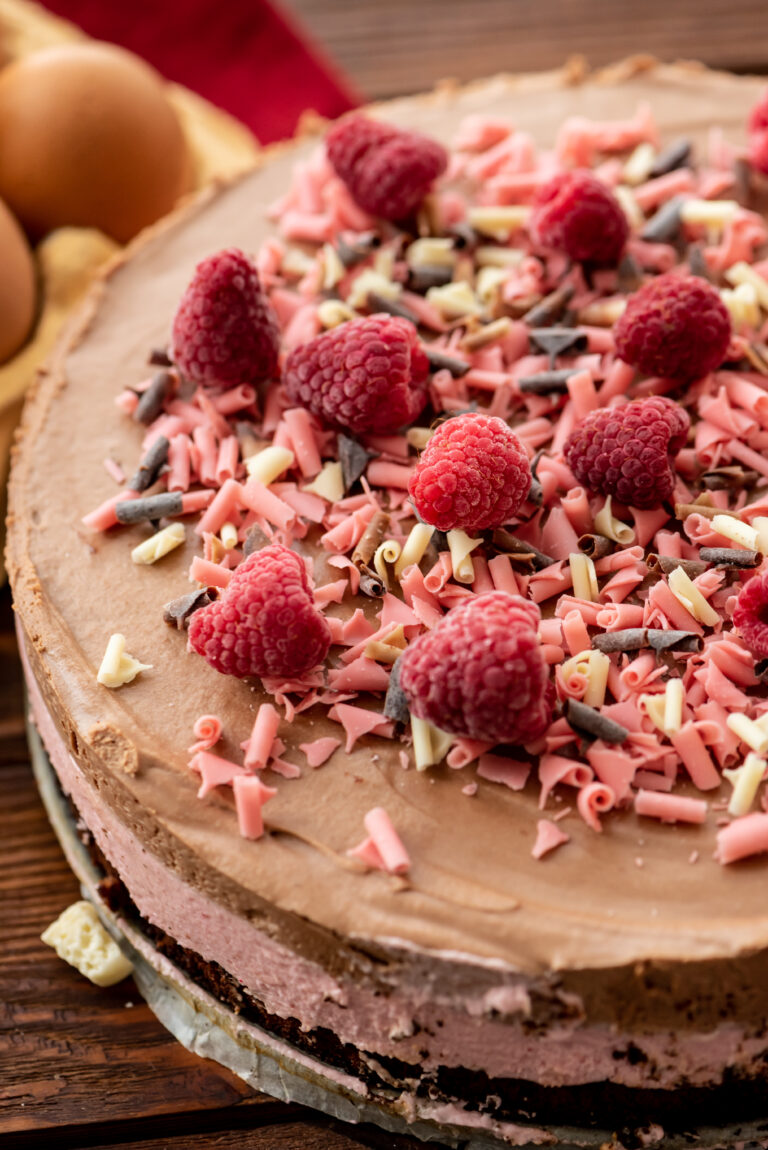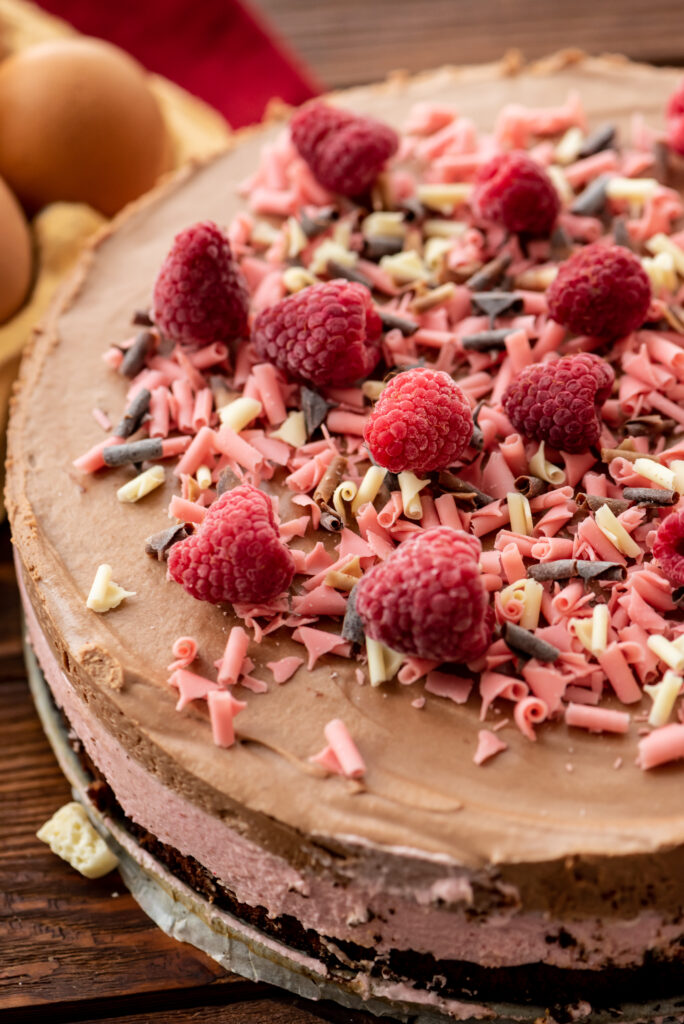 Last week, my hubby made a triple chocolate mousse cake that was out of this world amazing! Seriously, best cake ever!
As we were enjoying it, I got the idea to try a raspberry layer in it, rather than the white chocolate.
My hubby, being amazing as he is, immediately got to work on coming up with such a cake. He whipped it up this past weekend since my mom was coming into town, and the end result was fabulous!
It was just as good as the triple chocolate version, and offered a nice change with the raspberry. My mom even said it was her new favorite dessert, just as I had proclaimed the weekend before!
If you are needing a dessert for a gathering, party, or having company over, definitely make this one. It will impress all and be the hit of the event!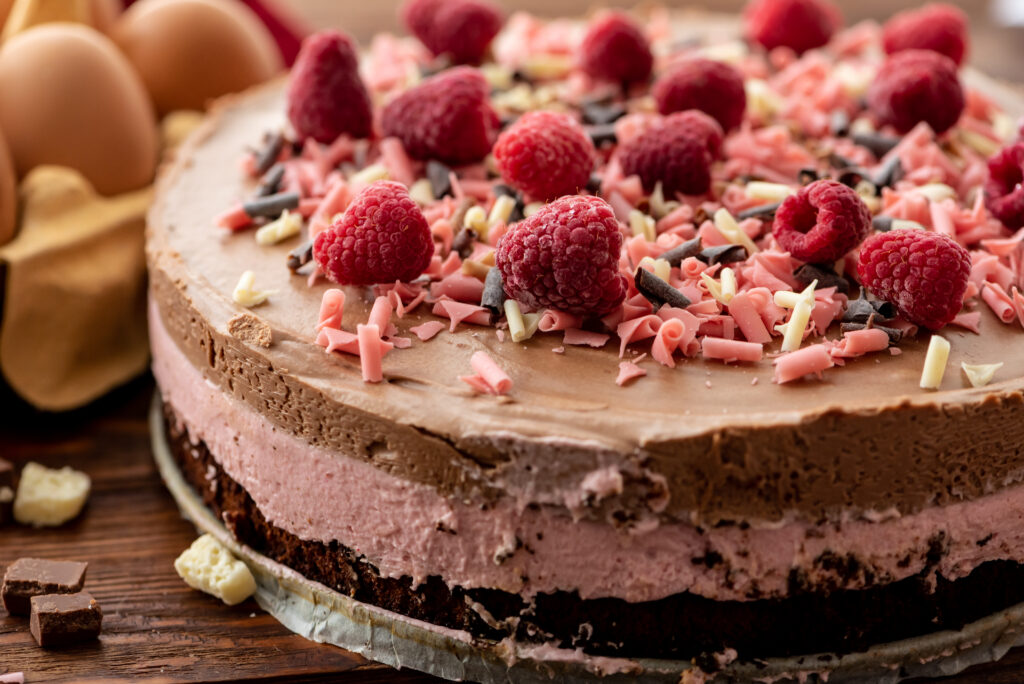 Doesn't it look pretty? Almost too pretty to eat….keyword being almost, haha!
Creamy layers of mousse, and flourless chocolate cake combined into each and every bite!
One bite in, you'll see just how heavenly the combination of flavors truly is! Being a rich dessert, there is plenty for everyone! Cut small slices and everyone will have satisfied taste buds!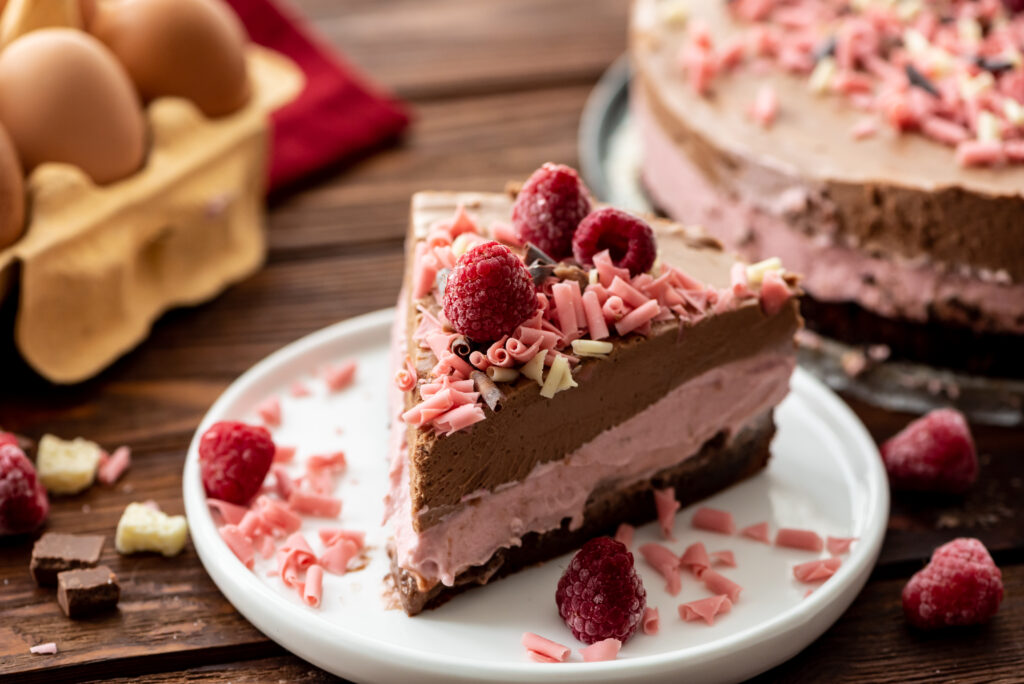 Chocolate Raspberry Mousse Cake is a decadent sweet treat that has each bite literally melting in your mouth! Satisfy your sweet tooth craving and give it a try!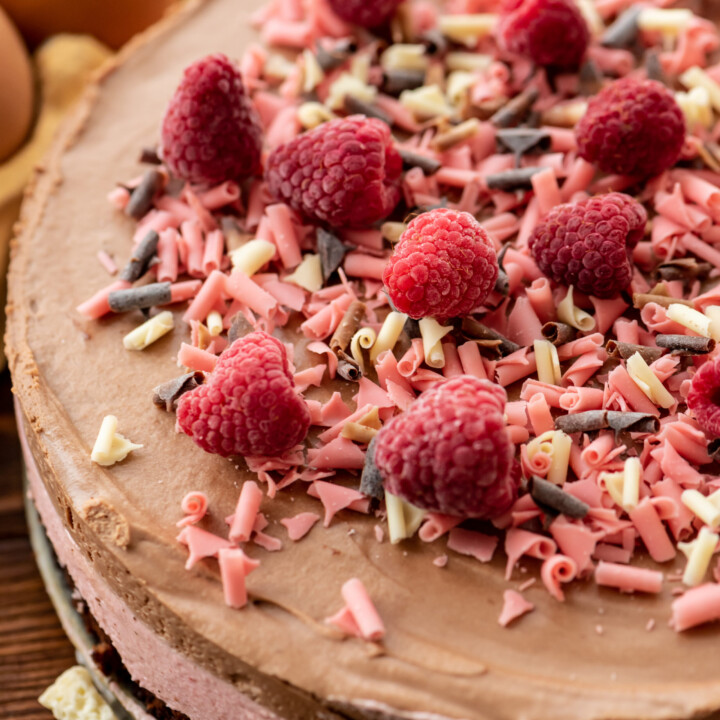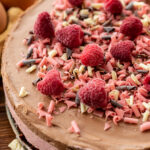 Print Recipe
Chocolate Raspberry Mousse Cake
Chocolate Raspberry Mousse Cake is a decadent layered cake with both cake and mousse combined!
Ingredients
Cake
10

oz.

semisweet chocolate

chopped

4

eggs

1/3

cup

sugar

1/4

teaspoon

salt

1

teaspoon

vanilla extract

1/2

cup

butter

softened
Raspberry Mousse Layer
1

tablespoon

water

1

teaspoon

unflavored gelatin

16

oz

frozen raspberries

1

tablespoon

sugar

6

ounces

white chocolate

chopped

1

cup

heavy whipping cream
Chocolate Mousse Layer
10

oz.

semisweet chocolate

chopped

1 1/2

cups

heavy whipping cream

1

teaspoon

unflavored gelatin

2

tbsp.

cool water
Instructions
Cake
Preheat oven to 350 Prepare your springform pan (I use a 9") by lightly greasing then lining with parchment paper. I baked in a water bath (wrapped the springform pan with tin foil to seal it in, then bake in about 1" of water), but you could skip the water bath also.

Melt 10 oz of semisweet chocolate that has been chopped up in a bowl. You'll want to use a bowl big enough because you'll be adding the whipped up eggs into the chocolate -- I use a big bowl. You can do this on the stove or more simply in the microwave.

Put the egg whites and about a 1/3 of the sugar into a large bowl. Start beating the egg whites with an electric mixer, and get the eggs to the point they are starting to get fluffy. Add the remaining sugar, salt and vanilla. Keep beating until the meringue is nearly at the soft-peak stage.

Whisk the softened butter into the melted chocolate and combine well. Whisk in egg yolks until combined. Add half of the beaten egg whites into the chocolate until combined. Once combined, fold in the remaining meringue.

Once combined, pour the batter into the springform pan. You'll bake for 26-28 minutes, if you use a convection oven, or quite a bit more if you aren't using convection (50 minutes or so without convection). Bake until a toothpick inserted comes out clean.

Remove the cake and allow to cool to room temperature. Refrigerate for at least an hour once cooled, and the cake will settle down significantly. Once cooled, remove the cake from the fridge, run a knife around the edges, and remove the springform ring. Flip the cake over onto your serving dish and remove the bottom and parchment paper. Place the springform ring back over the cake, you'll need it to hold the mousse in place later.
Raspberry Mousse
Add the gelatin to the tablespoon of water in a dish. Set aside.

Start preparing your raspberries. I thawed the frozen raspberries then threw them into the food processor. I let it run until the raspberries were completely pureed. You can strain it at this point and get only the liquid, but I used the liquid as it was, there weren't any seeds or anything in there. You'll need to have about a cup of raspberry juice at this point.

Chop up the white chocolate and place into a large bowl. Microwave for 30 seconds at a time until melted. Be careful not to burn the white chocolate. Set aside.

Add the raspberry puree to a saucepan and add the sugar. Bring to a boil and continue boiling until the juice reduces, about 5 minutes. Pour off a 1/2 cup of juice into a dish, then add the gelatin. I find it easiest to microwave the gelatin mixture for about 10 seconds and it will pour right out of the dish. Stir until gelatin is combined into the juice.

Pour the raspberry mixture over the melted chocolate and stir until combined and lumps are gone.

Whisk the heavy cream to soft peak stage. Whisk 1/3 of the cream into the raspberry chocolate mixture until combined, then fold in the remaining cream.

Pour completed raspberry mousse over the chocolate cake and smooth. Refrigerate for at least 3 hours until set up.
Chocolate Mousse
Chop up 10 oz of semisweet chocolate and place in a large bowl. Microwave 30 seconds at a time, stirring between heating. Once melted and smooth, set aside.

Mix gelatin and water in a dish and set aside.

Bring 1/2 cup heavy whipping cream to a boil and pour over melted chocolate. Stir until combined.

Microwave gelatin for 10-15 seconds then stir into melted chocolate. Set aside to cool slightly.

Whip the remaining cup of heavy cream to soft peak stage.

Add about 1/3 of the whipped cream into the chocolate, combining well.

Add the remaining whipped cream and fold into chocolate mixture.

Spread the mousse over the raspberry layer, then refrigerate for a few more hours.
Finish
Run a knife around the edge of the springform ring. Remove the ring.

Garnish with either white chocolate (I grated some over the top, or you can cut curlor raspberries.

Keep finished cake refrigerated.
Nutrition
Calories:
555
kcal
|
Carbohydrates:
45
g
|
Protein:
7
g
|
Fat:
39
g
|
Saturated Fat:
23
g
|
Polyunsaturated Fat:
2
g
|
Monounsaturated Fat:
11
g
|
Trans Fat:
1
g
|
Cholesterol:
108
mg
|
Sodium:
164
mg
|
Potassium:
404
mg
|
Fiber:
6
g
|
Sugar:
34
g
|
Vitamin A:
647
IU
|
Vitamin C:
10
mg
|
Calcium:
91
mg
|
Iron:
4
mg