Last week as I was browsing through Pinterest, I noticed a TON of onion chicken recipes! Since I love chicken and LOVE onion, I knew I wanted to try it!! I had all the ingredients and it looked so simple! With a few changes, it was a huge hit with my family! The kids loved the crispy onions on top, and ate all of their portions up quickly! This will definitely be something I make again, and again, and again!!! Enjoy!!
Ingredients:
4 boneless chicken breasts
3/4 cup honey mustard
2 cups French's Fried Onions, crushed
Directions:
Pat each chicken breast with a paper towel to "dry" it.
Dip chicken breast into honey mustard, coating both sides.
Dip chicken into fried onions, both sides.
Place a piece of tin foil on a cookie sheet, and set a cooling rack on top.
Spray cooling rack with cooking spray and place coated chicken on top.
Bake in a preheated oven, 375, and bake for 30-35 minutes, or until cooked through.
Remove from rack and serve!!
Enjoy!!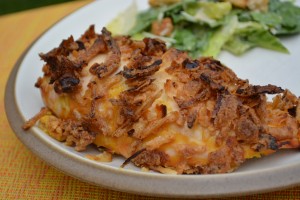 [AdSense-A]