Oh my goodness!! My obsession with chocolate peanut butter went into overdrive with this dessert!! The layers in this were amazing! Oreo, Peanut Butter, Chocolate pudding, and Reese's Cups, all in one dessert. It seemed to get better the longer it sat in the fridge (which wasn't that long since I inhaled it), so I recommend making it the night before you want to devour it!!! YUM!!
Ingredients:
About 22 Oreo Cookies, divided
2 tbsp butter, softened
1 package (8 oz) cream cheese, softened
3/4 cup peanut butter
1 1/2 cups powdered sugar, divided
16 oz frozen whipped topping, thawed
Mini Peanut Butter cups, chopped
1 cup cold milk
1 package (3.9 oz) chocolate pudding mix (instant)
Directions:
Place 16 Oreos in a food processor and pulse until crumbled. Toss the cookies with the butter. Press mixture into a 9 inch square pan, un-greased. In a large bowl, mix together the cream cheese, peanut butter, and 1 cup of powdered sugar. Fold in 8 oz of the whipped topping. Spread mixture on top of cookie layer in pan. In a different bowl, mix together the remaining 1/2 cup of powdered sugar, milk, and pudding mix. Stir for about 2 minutes, or until thickened. Fold in remaining whipped topping. Sprinkle peanut butter cups on top of peanut butter layer. Spread the pudding mixture on top of the peanut butter cups. On the top of the cake, sprinkle remaining Oreos as well as any additional peanut butter cups you may have. Place cake in the refrigerator to chill at least 4 hours.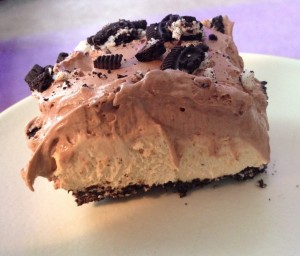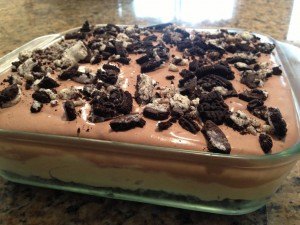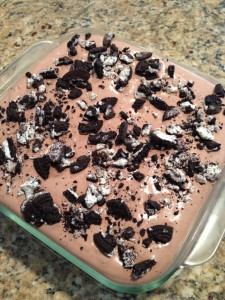 [AdSense-A]