As we have mentioned in previous posts, fellow Cookin Chick Vicky, hosted a pre Thanksgiving potluck this week. She made a yummy turkey and we all were in charge of bringing some side dishes to share. I decided to bring a sweet potato casserole. This recipe was one I had never made before and it turned out quite delicious. My kids went crazy over it, especially my youngest, the almost two year old!! You may wonder why I am calling this "version 1". I have found another recipe that I am also wanting to try, so I will be making a "candied" version on Thanksgiving and will post that one as well.
As Thanksgiving approaches, be sure to include the yummy sweet potato casserole on your menu!!!
Ingredients:
4 sweet potatoes, peeled/cooked/cooled, or 2 large cans of sweet potatos (yams)
1 tbsp milk
1 tbsp cinnamon
2 tsp vanilla
1/2 cup brown sugar
1/2 cup chopped pecans
Directions:
In a large bowl, combine sweet potatoes (drained if using canned), milk, cinnamon, vanilla, and brown sugar. Mix until combined. Spread mixture into a lightly greased 8×8 baking dish. Top with chopped pecans. Bake in a preheated oven (375) for about 20 minutes, until brown and bubbly!!!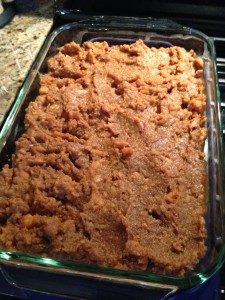 Sorry its not a better pic, I snapped this as I was loading up three kids in the car to head to our playdate : )


Be sure to like us on Facebook