A while back, my hubby bought us a cast iron skillet. At the time, I was thinking "what is the difference between that and our current skillet" and also "why the heck is this skillet so heavy", hehe! Well, the more I use the cast iron skillet, the more I am in love with it. We have grilled it, put it in the oven, over the stove, etc. This past week, I was in the mood for fajitas, and since they are always so quick and easy to whip up, I put everything in the skillet and dinner was done! The kids prefer to have quesadillas over fajitas, so I always make them quesadillas in our quesadilla maker (which I highly recommend for anyone who likes quesadillas, quite kid friendly).
I marinated the steak for a bit prior to cooking and then cut up onion, red pepper, green pepper, and lime. If you prefer a bit more spice, throw some jalapenos in there or whatever else you like!! Not only is this quick, but it makes great leftovers as well. Enjoy the fajitas on night one, use the leftovers for quesadillas, tostadas, over salad, etc. The possibilities are endless!! Enjoy!!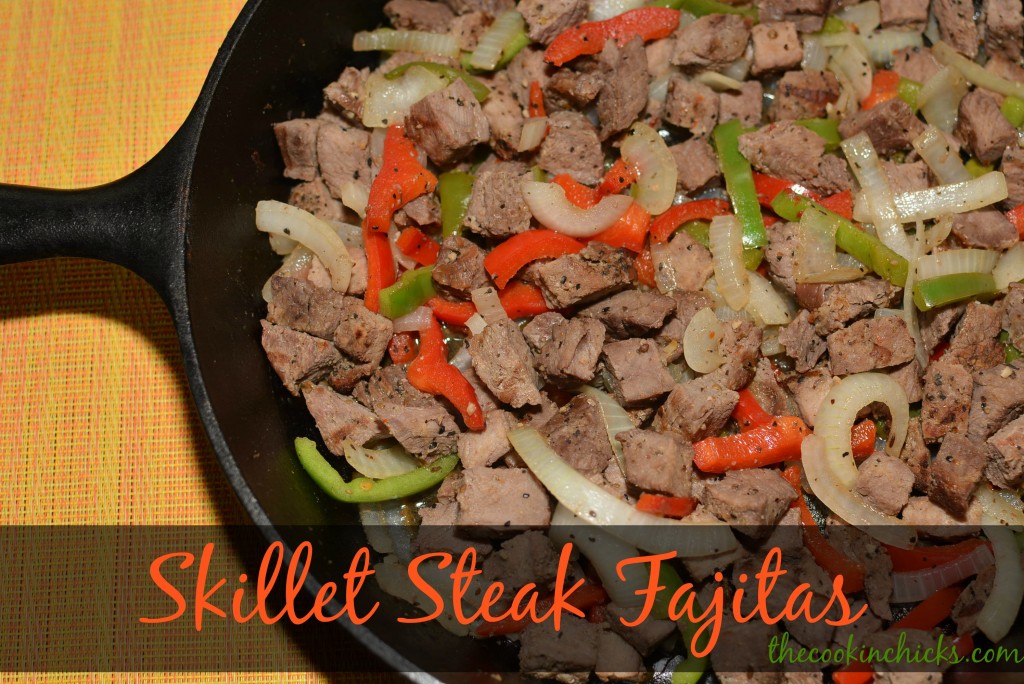 Ingredients:
1 lb. skirt steak, sliced thin (or you can dice it like I did)
4 tablespoon olive oil, divided
3 tablespoon lime juice
3 garlic cloves, minced
1 teaspoon ground cumin
1 teaspoon garlic powder
1 teaspoon onion powder
Salt/Pepper
1 red pepper
1 green pepper
1 medium onion
Flour Tortillas
1 Lime
Cheese, sour cream, salsa, etc.
Directions:
In a gallon sized bag, add the sliced steak, 2 tablespoon olive oil, lime juice, garlic, cumin, garlic powder, onion powder, salt, and pepper. Close bag and allow to marinate at least 20 minutes.
Slice the red pepper, green pepper, and onion while meat is marinating.
Heat skillet until warm. Add in the 2 tablespoon olive oil and cook the red pepper, green pepper, and onion until tender.
Remove peppers/onion from skillet and set on a plate.
Remove the steak from the marinade and add to the skillet. Cook for about 4-6 minutes, until cooked through.
Toss the peppers/onion back into the skillet and allow to simmer for about 3-4 minutes.
Serve fajitas in flour tortillas with cheese, sour cream, salsa, etc. on top.
Squeeze fresh lime juice on top of each fajita prior to eating! Enjoy!!!