This Simple Chupacabra Sausage Skillet comes together in no time and is a full meal in one skillet!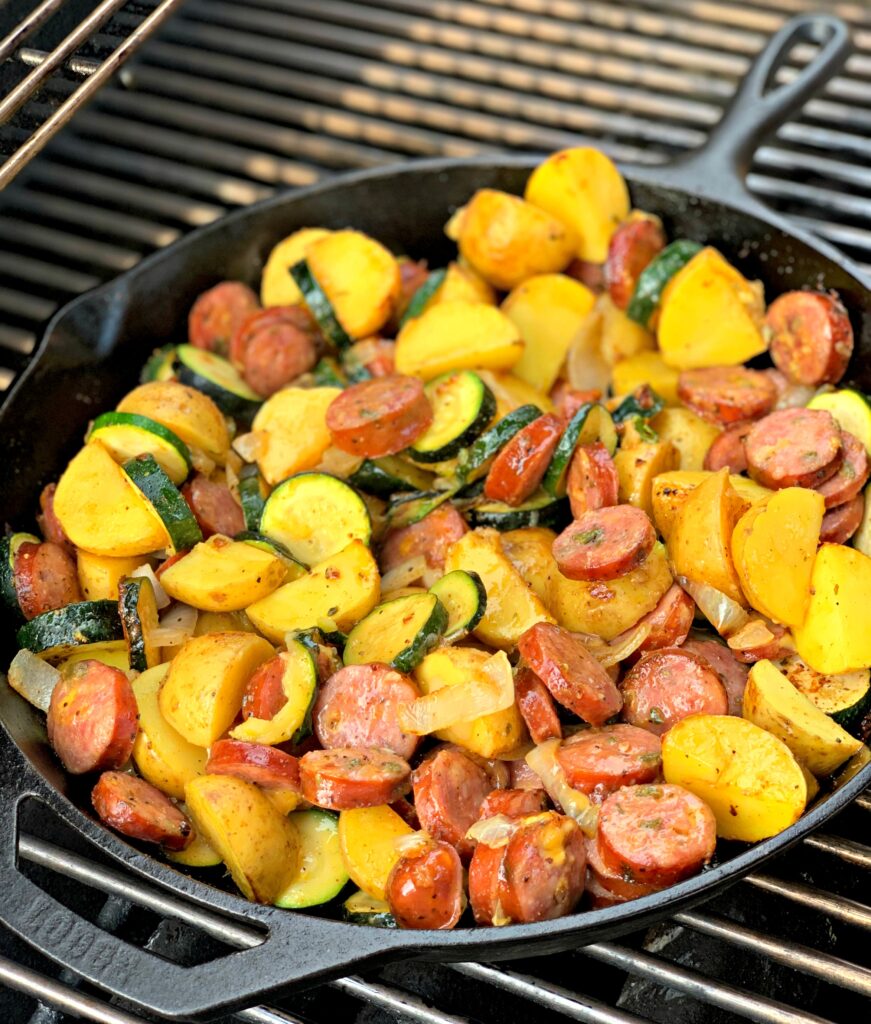 A few years back, my hubby and I were casually browsing through our local Ace Hardware store. Do you guys have one near you?? Well, if not, its typically a smaller hardware store, but it carries EVERYTHING!
Things for your yard, fertilizers, hardware, plants, garden, BBQ supplies, grills, and an extensive line of seasonings. I haven't been to many Ace's, but I would think that each store carries different seasonings. Some are local, others are hidden secrets but amazing!
The seasoning aisle was where my hubby and I were browsing because who doesn't love a good seasoning for just about everything, right?! Well, I had a few in my hands when the sales associate came over to ask if we needed help. I decided to pick his brain and ask which one he recommended. Turns out, he had made pork carnitas the evening before and used Chupacabra Seasoning. He had brought a large container in for the employees to try and ended up giving us a sample too. Not only was that some of the best pork I had ever tried, but the seasoning was incredible!
We immediately put our original choices back and went over to where they sold the Chupacabra line! Since that day, we use their product on just about EVERYTHING! It is by far the best seasoning (and I am not even getting paid to say that….I truly love it). I reached out to them letting them know what a big fan I was and they sent more even more product last year! Quite nice, huh?
Their Cluckalicious seasoning, Cajun blend, Special blend, and of course….their original rub are all tasty! We use it on veggies, pork chops, chicken, sausage, beef, and more! The exciting thing is, they just announced a new steak seasoning coming out! I cannot wait to try it!
Anyways, back to this Simple Chupacabra Sausage Skillet recipe! This weekend, my hubby and I were tied up with my daughter's swim meet, a house warming party, and lots of chores around the house. We didn't have a lot of time to think about dinner come Sunday night, so I grabbed some on hand ingredients….tossed them into my cast iron skillet, sprinkled some Chupacabra on top and dinner was done!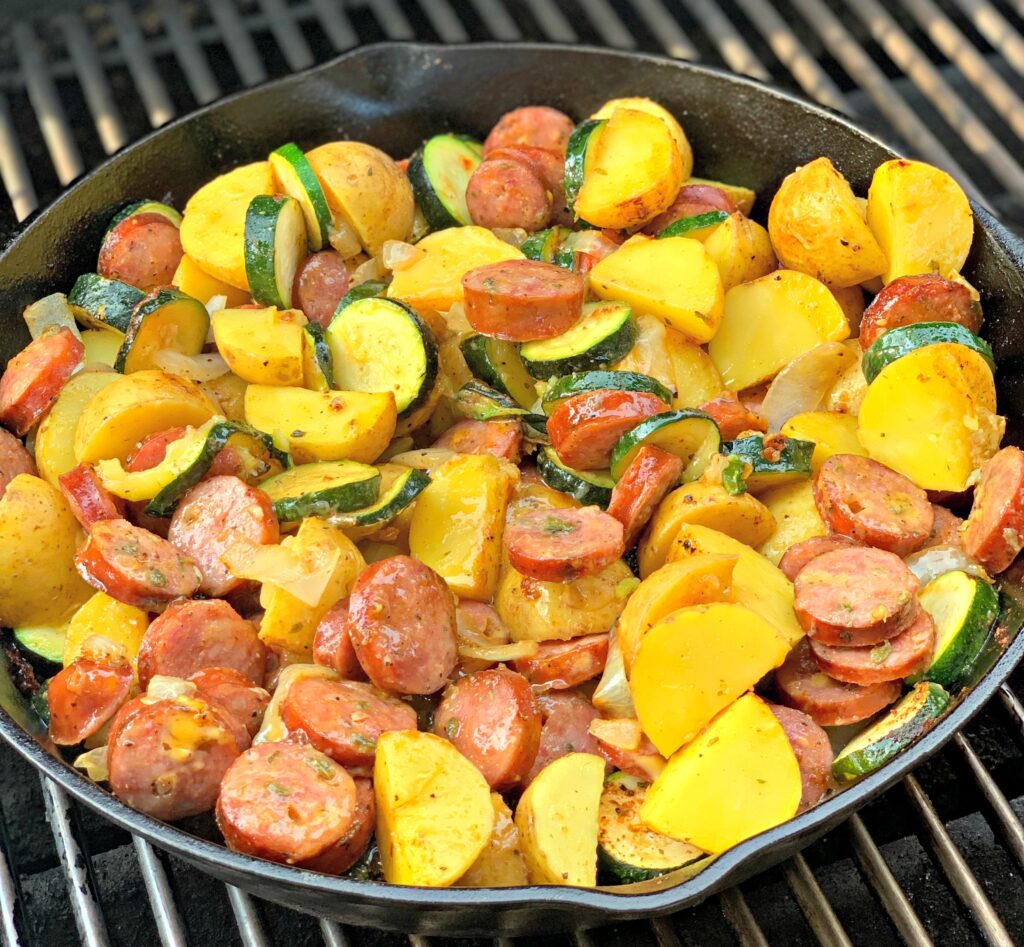 Not only did my hubby and I love it, but even my three kids went crazy and had seconds! We enjoyed the leftovers the next day for dinner and they were just as good!
Not only can you change this recipe up to fit your desired wants, but you can use as much or as little seasoning desired! I used zucchini, onions, potatoes, and jalapeno cheddar sausage….but you can use peppers, mushrooms, chicken, steak bites, etc.
This is a one pan meal, meaning dinner is ready in no time and clean up is a breeze! Perfect for summer weather and keeping the heat out of the kitchen, right?!
Cast Iron Skillet: https://amzn.to/2MEoDUA
Chupacabra Original Seasoning (our most used): https://amzn.to/2F4PfIh
Hope you enjoy! Let me know what you think! While you're here, scroll below and sign up for my newsletter! You'll receive my newest recipes sent directly to your inbox! Plus, be automatically entered in my FREE, monthly, subscribers only giveaway! July 1 I am giving away a set of donut pans! Who knows, maybe August 1 will be a Chupacabra seasoning giveaway!!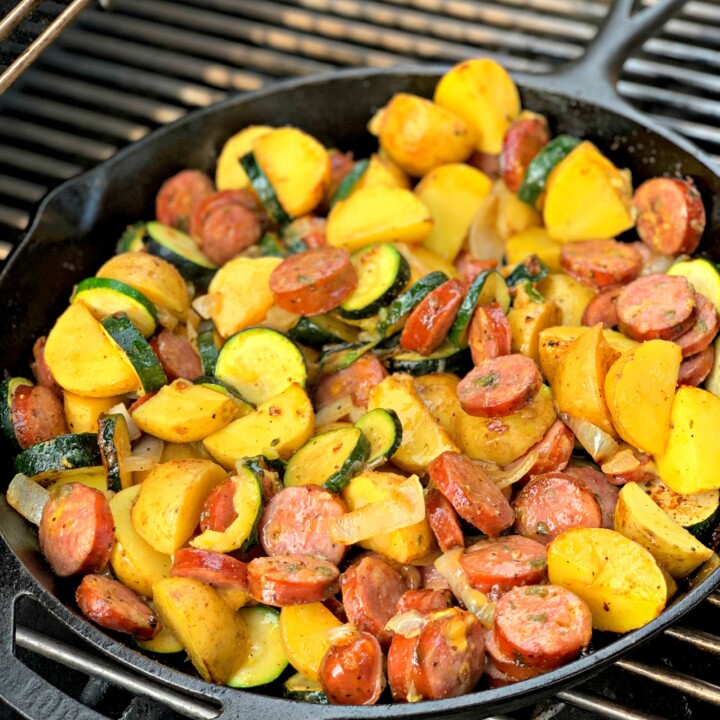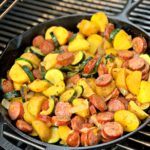 Print Recipe
Simple Chupacabra Sausage Skillet
This Simple Chupacabra Sausage Skillet comes together in no time and is a full meal in one skillet! 
Ingredients
14

oz

smoked sausage

4

zucchini's, sliced

1

onion, chopped

4

Russet potatoes, quartered

*or any potato desired

4

tbsp

butter

Chupacabra seasoning
Instructions
Combine all ingredients into a 12 inch skillet. *desired amount of seasoning

Place skillet on grill, medium high heat, and cook about 25-30 minutes, Just until potatoes are tender as those take the longest to cook.