If you have been following this blog, you can now tell that when I said I am on a pumpkin kick, I was not joking!! These cookies are yet another recipe to add to the pumpkin collection and are SOOOOO tasty!! I was in charge of bringing a "sweet" to my weekly chat and craft women's group. I wanted something sweet, but not too sweet as it was going to be at 10am and that is just a little too early to break out the chocolate…..in public, hehe!! I whipped a batch of these up which made five dozen. The women in the group loved them and all five dozen were gone by the end of it. Definitely try these cookies if you love cinnamon/sugar and pumpkin!!!
Ingredients:
1/2 cup margarine
1/2 cup shortening
1 cup white sugar
1/2 cup light brown sugar
3/4 cup pumpkin puree
1 large egg
3 1/4 cups flour
2 tsp baking powder
1 tsp baking soda
1/2 tsp salt
1 tsp cinnamon
Coating:
1/2 cup sugar/ 1 tbsp. ground cinnamon/ 1/2 tsp ground ginger
Directions:
Preheat oven to 400 degrees.
Mix together margarine, shortening, both sugars, pumpkin, and egg until combined.
Add in flour, baking powder, baking soda, salt, and cinnamon, mixing until well blended.
Place dough in fridge for 30 minutes, or freezer for 10 minutes.
Meanwhile, in a separate bowl, mix together 1/2 cup sugar, 1 tbsp cinnamon, and 1/2 tsp ground ginger.
Once dough is chilled, remove from fridge and roll into small balls.
Roll dough balls through cinnamon sugar mixture and place on a cookie sheet, about 2 inches apart.
Bake in oven  for 7-9 minutes, until light brown. *Makes about 4-5 dozen cookies!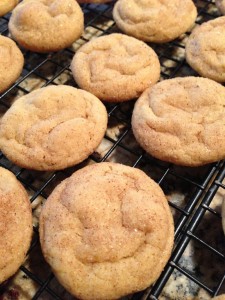 Be sure to like us on Facebook