If you are anything like me, there are ALWAYS tons of leftover potatoes. No matter if I use 1 potato or 10 potatoes, there seems to always be too much. A few weeks ago, I decided to take the potato leftovers and freeze them for another night. I wasn't sure what I was going to do with them, but I didn't want to waste them. The hubby and I decided to make potato pancakes last night with our dinner and they were a huge hit. My kids saw them and thought they were regular pancakes, they gobbled them right up ha-ha! Our's were made using our leftover garlic mashed potatoes, but any kind will work. Enjoy!
Ingredients:
4 cups mashed potatoes
2 eggs, beaten
2 tsp salt
1/2 cup cheddar cheese, shredded
2 tsp garlic powder (optional)
1/4 cup Bisquick mix
Directions:
Spray cooking spray on a heated griddle. Mix all ingredients together in a medium bowl. Scoop about 1/4 cup mix onto griddle and allow to cook five minutes on each side, or until golden brown. Serve as a side dish or main dish. You can scoop a dollop of sour cream on top for additional flavor.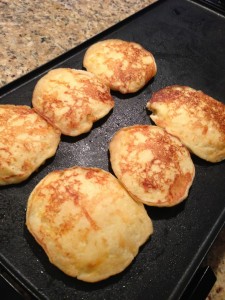 Be sure to check us out on Facebook for fun contests, recipes, and more