I don't know about you all, but Oreo's in my house are dangerous. You cant just eat one and walk away. One turns into two, two turns into five, and before you know it, one whole row is gone, ha-ha! Luckily, they are SO healthy for you, right? ; )
These yummy Oreo truffles are perfect for a small treat. You can put them in the freezer, fridge, or pantry and eat them as you desire. They would be perfect to give away as a small gift, maybe for teachers or friends? 
Enjoy!!
Ingredients:
1 package (8 oz) cream cheese, softened
1 package Oreo's (I used double stuffed)
2 packages Bakers Chocolate, semi sweet (you'll prob only use 1 1/2 packages)
Directions:
Set aside about 5 Oreo's. Place the rest of the Oreo's in the bowl of your food processor and chop until finely crumbled.
Pour Oreo crumbs into a medium bowl.
Add in cream cheese and mix until well combined and fluffy.
Place foil or wax paper on a cookie sheet.
Scoop out Oreo dough and roll a 1 inch ball of the mixture, setting it on the foil. Continue until all the Oreo mixture is used up. You'll have at least 3 dozen depending on the size.
Place cookie sheet in refrigerator for at least 15 minutes. *If you are in a hurry, you can skip that step, but the chocolate may not coat the Oreo as well.
Place the 5 Oreo's in the food processor and chop until finely crumbled. Set aside.
Once the Oreo is chilled, melt the chocolate in a sauce pan or in the microwave. Be careful not to burn the chocolate. Roll the Oreo balls into the chocolate and set back on the cookie sheet. While chocolate is still semi "wet", sprinkle remaining Oreo crumbs on top.
Chill and enjoy!!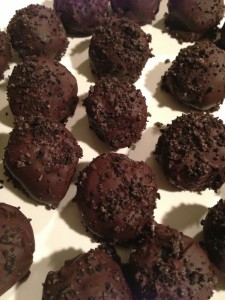 [AdSense-A]