This Mouth-Watering Reverse Sear Steak method might just change the way you cook a thick steak forever! Recently named the best way to cook a steak, enjoy mouth watering tenderness and an even cook every time!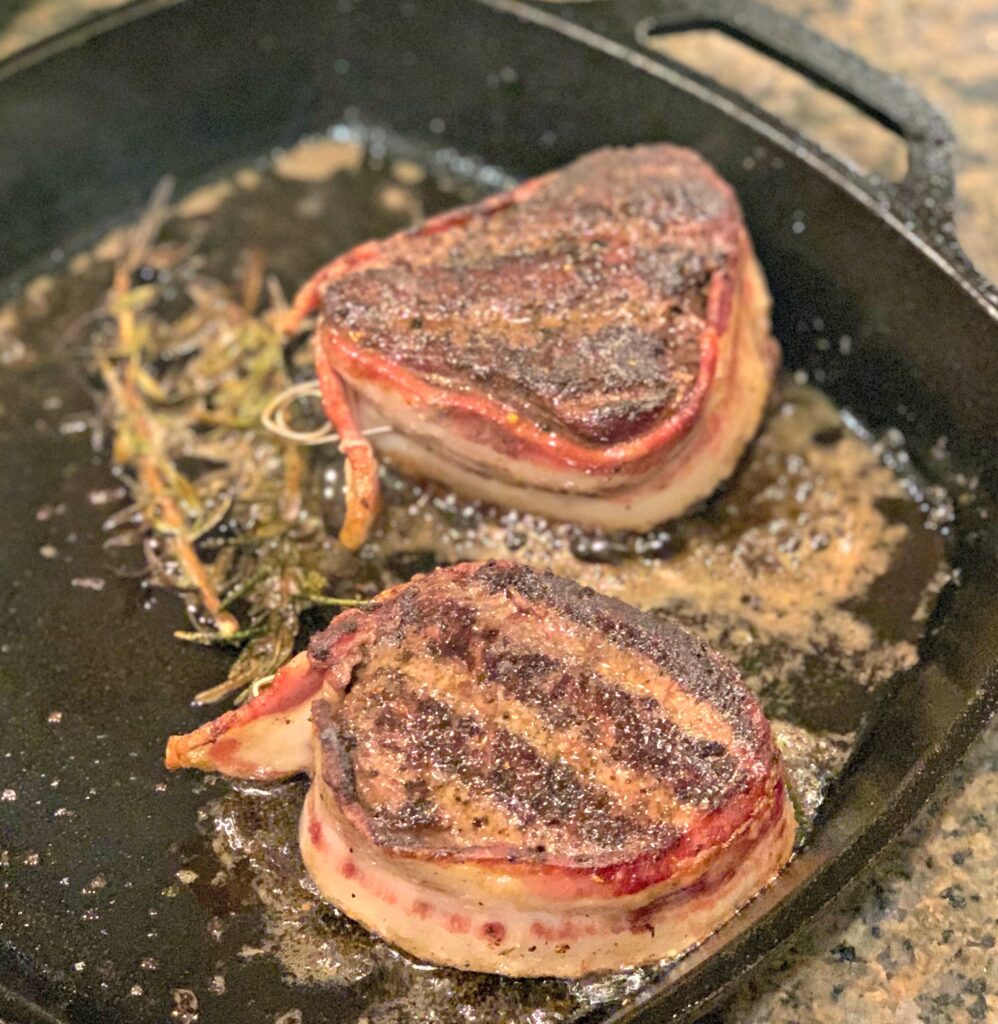 Hi loyal fans of the Cookin' Chicks…this is the Cookin' Chick's hubby, I am hijacking this post because this recipe is near and dear to my heart!  First, a little back story.  Truth be told, when we got married 13 years ago, neither of us had a clue how to cook.  I had Kraft Mac n' Cheese down, but that was the extent of it.  I had an old Weber charcoal grill, that was probably a great grill, for those who knew how to use it.  Mine was mostly filled with ashes and bones of food that was burnt to a crisp, or fell apart and ended up on the coals.
Fast forward to now, 13 years later, and we've mostly got this cooking thing down.  In fact, in any given week, we split the meal prep, and I'm cooking some of the delicious meals you guys end up reading about!  However, if it's a grill (or a smoker) night, it's always me!!  So let's talk about this steak, and how to make really the best steak you'll ever eat (I prefer this method over any other I've tried, and you'll soon see why).
First, you need a solid steak.  I tend to prefer filets or ribeyes, for their own reasons.  Filets are almost foolproof, so long as you don't overcook them.  Super tender with great flavor, you really can't go wrong.  For this specific steak, we went with filets from a local butcher.  Ribeyes are great too, the fat in the steaks renders to a buttery texture, and really enhances the flavor of the steak.  Either way, you can't go wrong!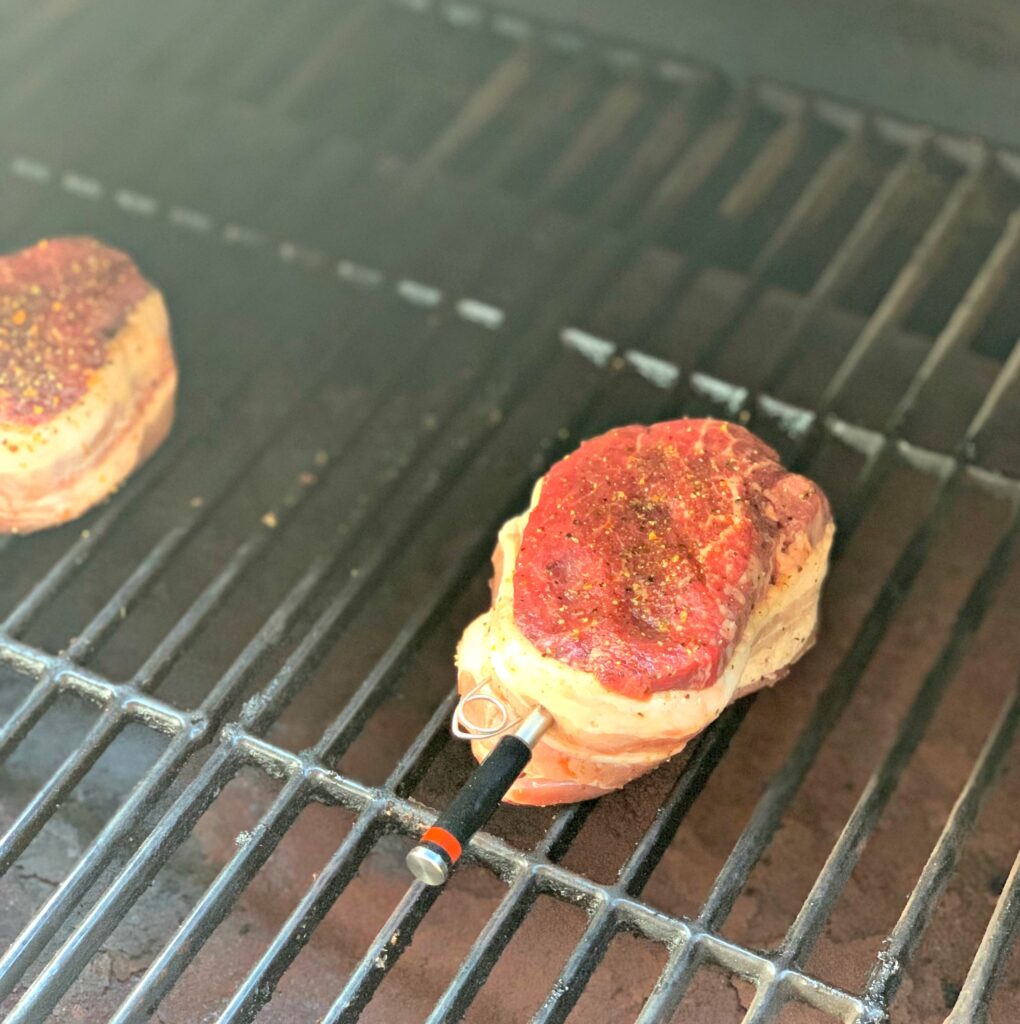 So onto the cook.  I season my steaks with just salt and pepper.  Those store-bought steakhouse seasonings are ok, but trust me, go with salt and pepper.  A lot more salt than you think you might need as the meat will soak it up and the flavor will really pop.  Add a good crust of pepper and we are ready to go.  Go ahead at this point and preheat your grill…we're going to be very specific here.  I heat to between 225-275 F.  You don't want anything over 300 F.  I use a smoker with a digital temperature controller, so I can nail 250 on the dot, but if you aren't sure about your grill, or you want to really be sure your temp is on point, you can use the oven too!
Once your grill is preheated, you throw the meat on at 225-275 F until your internal temp hits 125 F.  Here's where my advertising comes in.  I've used literally 20 different meat thermometers, all with their own pros and cons.  Here's my favorite so far.  The MeatStick thermometer is amazing.  It's wireless (can connect via Bluetooth or wifi).  The app is incredible, and highly functional.  And did I mention it's wireless so there's no wires hanging out of the grill?  I can put the meat thermometer into my meat when I'm prepping so I don't have to worry about probing once it's on the grill?  Amazing.  Seriously.  I set the app up with my steaks, what temp I want to achieve, and what temp my grill is at.  The app gave me an estimate of how long my filets would be on the grill, and monitored not only the temp of my meat, but the temp of the grill as well!  Amazing.  Seriously.  I can't say enough good things about this product, I'm going to need to buy 3-4 more for those nights when everybody wants a steak cooked to a different temp!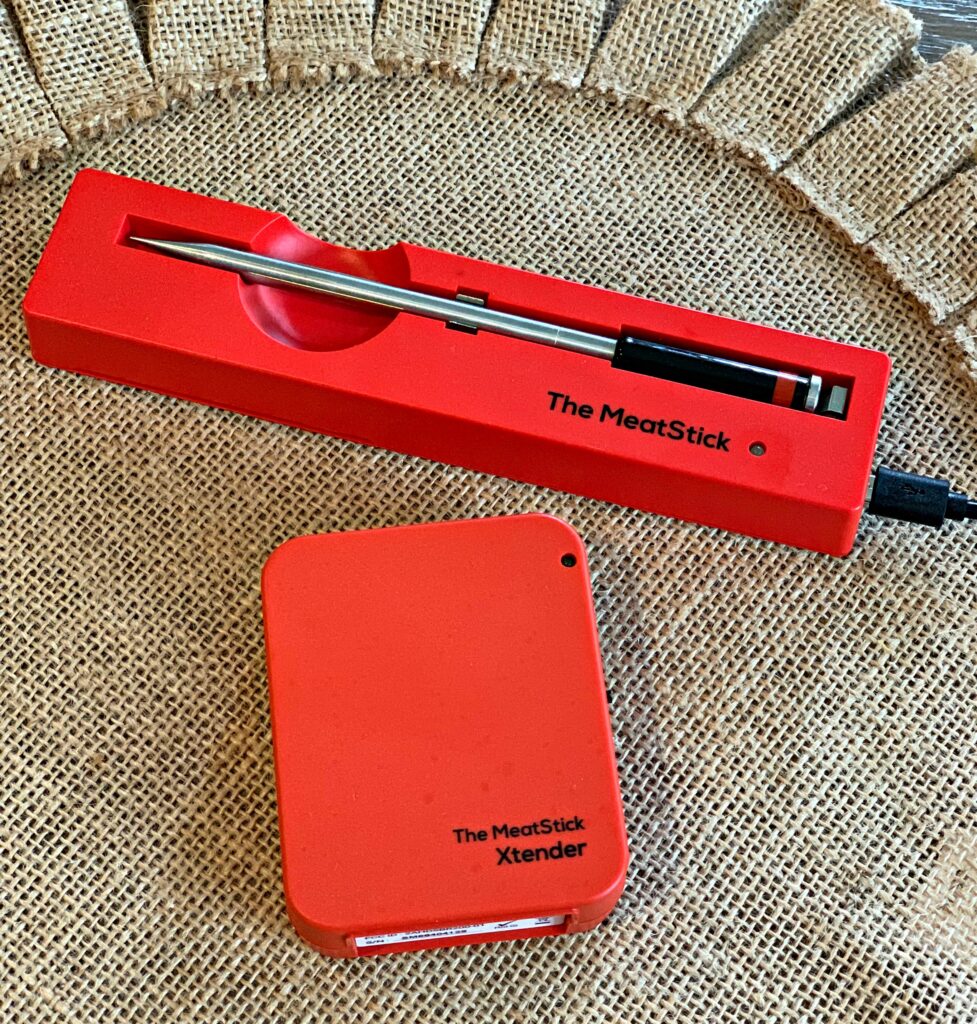 Click here to receive your MeatStick Thermometer discount!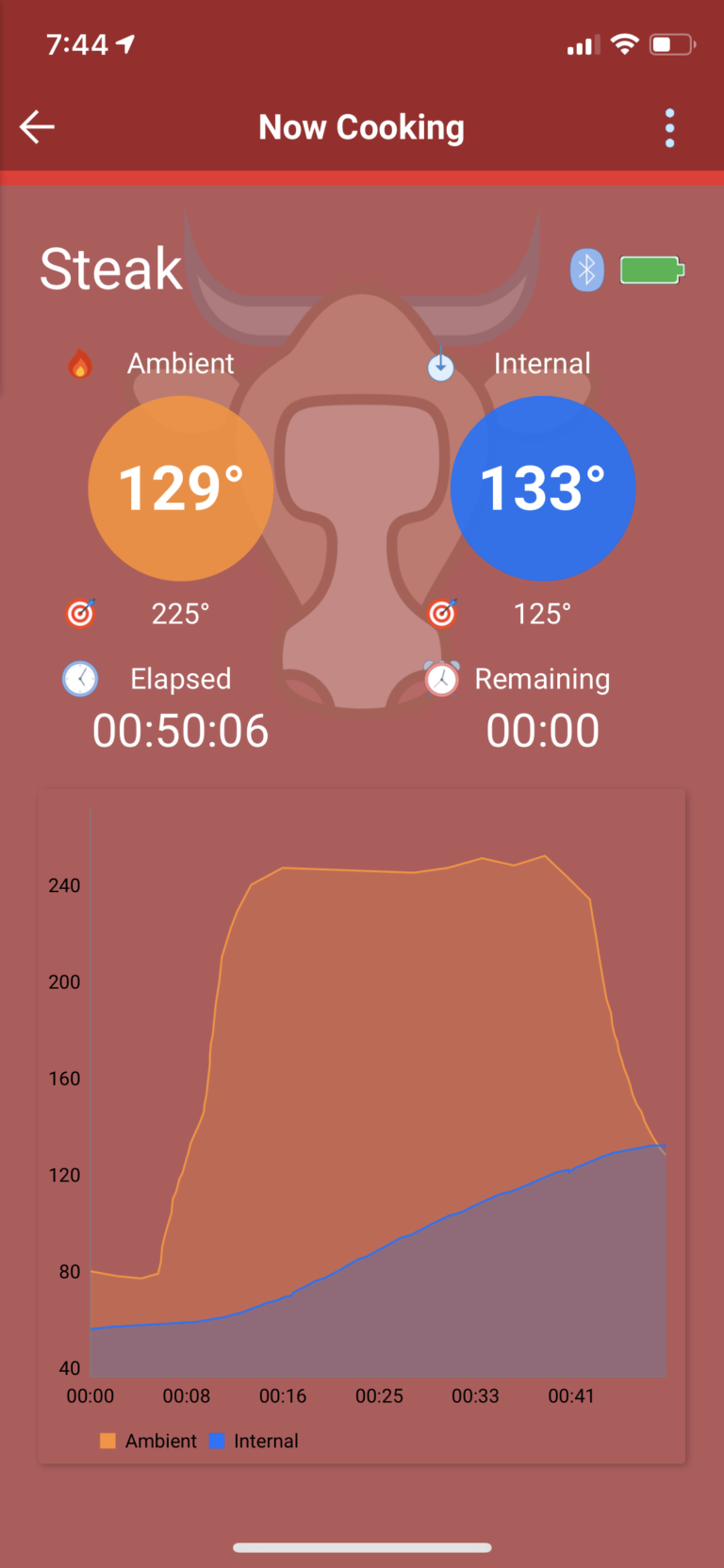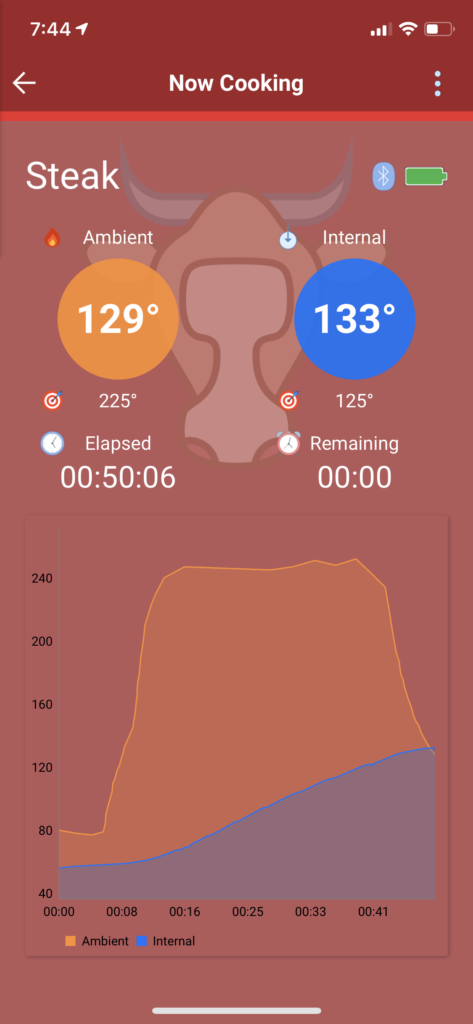 Once you've got your meat up to temp (based on my filets, this was long enough for 1-2 glasses of wine, or about 45 minutes), take those steaks off, cover with foil, and let them sit.  Here's a critical step to steak cooking that most skip.  Let it rest, the muscle contracts a bit and sucks back in the juices that would normally flow out.  A good 10-15 minutes for a steak is plenty.  In the mean time, I get a cast iron pan heated up.  You can use the stove (not recommended!) or just turn your grill ALL THE WAY up.  Once the steaks have rested, slap them into that pan and sear for 1-2 minutes per side.  Leave that thermometer in there, you don't want to overshoot your desired doneness during the sear!  By the way, the MeatStick thermometer can handle these temps, so long as you don't go too far over 500 F in your grill.  Sear, flip, sear, and serve!   Because you rested prior to the sear, no need to rest again, just plate and enjoy!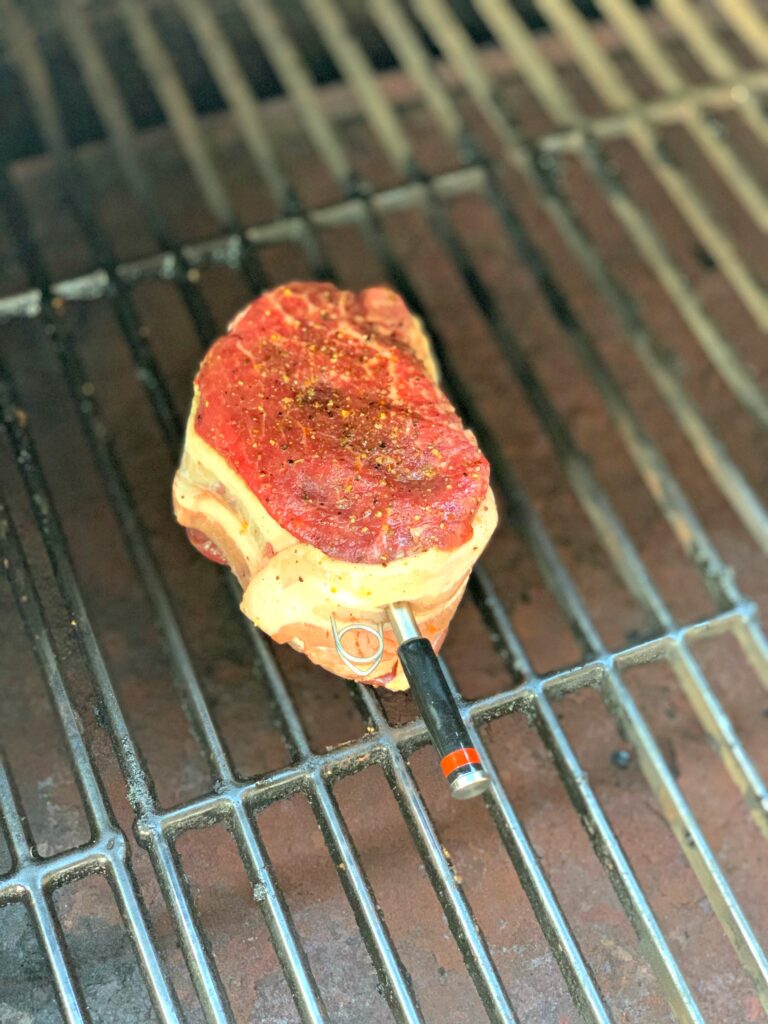 I'm passionate about steak, and grilling…and meat thermometers.  Pick up a MeatStick and thank me later.  And try your next steak in this way.  You'll end up with a beautifully cooked steak that's your desired doneness from edge to edge.  This will be the best steak you've ever cooked.  Have fun, shoot us a note back and let us know if you try it, and how much you love the MeatStick!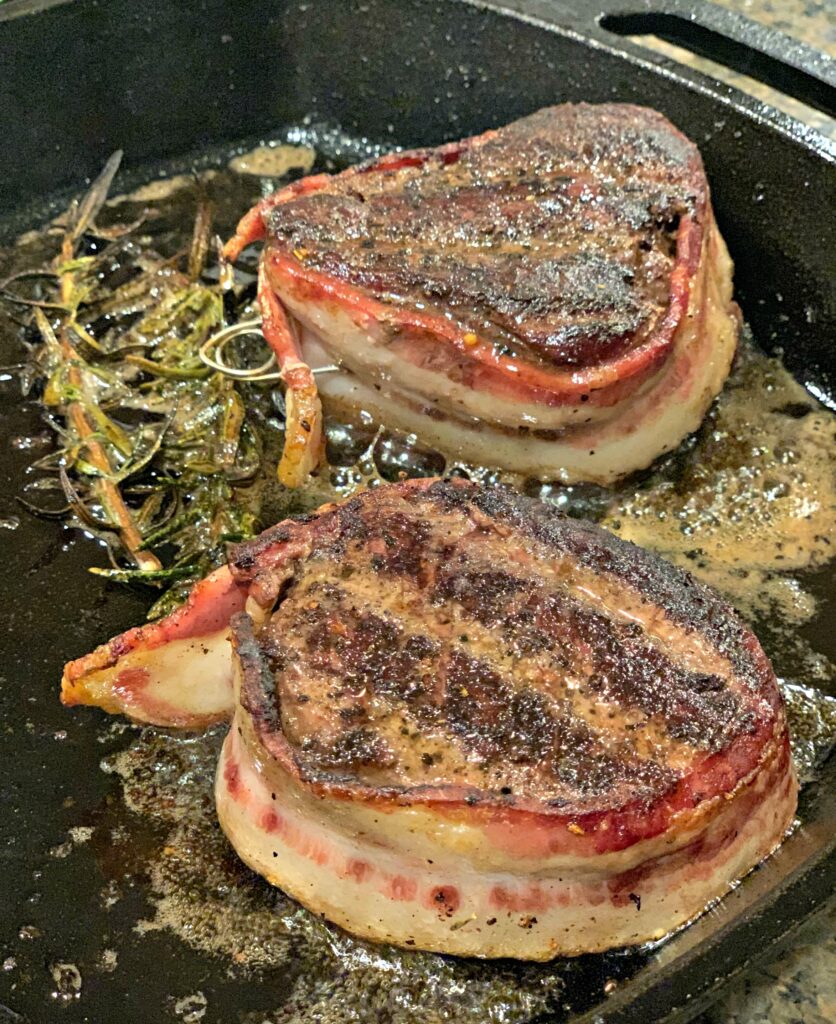 Yours Truly, The Cookin' Chick's Hubby