This morning, I woke up and proceeded to go through all the yummy recipes I have been wanting to share. After searching for which one fit this special day, I decided to take a step back, leave the recipes behind for the day, and focus on the real meaning of Easter. Its' not about the bunny, it is about the cross.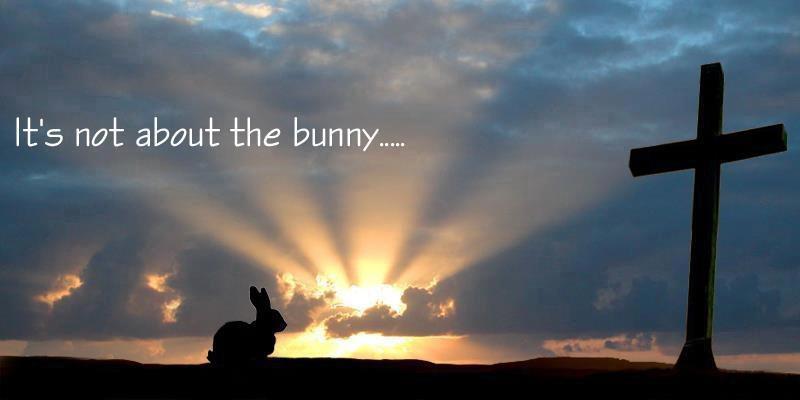 Easter is the day when we celebrate Jesus Christ rising from the dead. Jesus is the son of God and gave his life to die for our sins. On the third day after he died, the day we now view as Easter Sunday, it was discovered that Jesus had rose from the dead. An angel was there and told his friends "Don't be afraid! I know you are looking for Jesus, who was crucified. He isn't here! He has been raised from the dead, just as He said it would happen" (Matthew 28:6).
By Jesus dying on the cross, he erased our sins and gave each and every one of us eternal life. How amazing is that? We now have the gift of eternal life and forgiveness of sins. If we accept Him as our Lord and Savior, we get to not only live out our life here on Earth, but once we die, we get to join him in Heaven. Imagine that for a second. Heaven will be a place to worship God, be a place of joy, have a beauty beyond our imagination, and best of all, be a place of love. The angels will rejoice, we will be given new names, imperishable bodies, and will be clothed in white robes of righteousness. There is nothing that puts me more at peace than knowing that once I leave this Earth, I will see my friends and family again.
When I was about fourteen years old, I accepted Jesus into my heart. I remember the day perfectly as it was the most important day of my life. I remember coming home from a sleepover with some friends from youth group, asking my mom a few questions about things that had been discussed with my friends, and finally, most importantly, asking my mom to help me pray to receive Jesus as my Lord and Savior. I remember the hugs, laughs, and celebration my mom and I had in the kitchen that afternoon, and the peace it brought me knowing that I was loved, forgiven, and accepted.
Now, in my married life, with children, I pray that they too understand the significance of this special day and also the significance of what Jesus did for them. Yes, Easter has egg hunts, bunnies, chocolates, and more; but if we focus on the true meaning, we know that this day, it is about the cross!
I hope each and every one of you have a Blessed day filled with family and friends. If you have any questions regarding faith, Easter, praying, etc. please feel free to reach out to me at any time. I would love to hear from you!!
And, if you want to accept Christ as Savior and turn from your sins, you can ask Him to be your Savior and Lord by simply praying a prayer like the one below. If you do end up praying and accepting Him, will you do me a favor and let me know? I would love to know and celebrate with you!!
"Lord Jesus, I believe you are the Son of God. Thank you for dying on the cross for my sins. Please forgive my sins and give me the gift of eternal life. I ask that you come into my life and heart to be my Lord and Savior. I want to love and serve you always. Amen".