Each afternoon, when my oldest kiddo gets home from school, I throw together a quick smoothie to hold the kids over until dinnertime. They love it since they get to pick the main fruit used, and I love it because I slip veggies into it that they never know about, hehe!!! They quickly drink it down, and off they go to play until dinner. Its a win win for everyone!!

I have a Vitamix that I absolutely love. I literally wash and throw entire strawberries into smoothies without worrying about cutting the stems off. Makes life so much easier, hehe!! If you are in the market to buy a Vitamix, be sure to use the code below to receive free shipping on your purchase!! It is one kitchen appliance that I absolutely love and a great investment!! 🙂

***06-008620 ***
GET FREE STANDARD SHIPPING ($25US/$35CN)
USE ABOVE CODE
1-800-848-2649 or Vitamix Website

Ingredients:

1 cup almond milk (I use unsweetened vanilla, any milk works)
1 cup blueberries (I use frozen)
1 banana, peeled
1 cup baby carrots
1 cup spinach leaves or Kale
1/2 cup strawberries
1/2 cup ice (if using frozen fruit, you can omit the ice)

Directions:

Place all ingredients into the blender. Place lid on top and blend on high for about 30 seconds, or until smooth. If using a different blender, you may just need to adjust blending time a bit! Enjoy!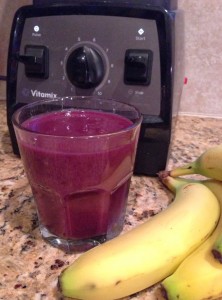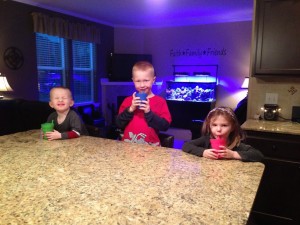 Enjoying their smoothies!!