I have been seeing grilled corn recipes EVERYWHERE!!! Seriously, open up Pinterest, magazines, food shows, etc. and I am sure you too will see it! I decided that I needed to try it. This recipe is a variation of about three recipes, that I decided to combine into one, hehe! It turned out delicious!! The lime added a yummy, sweet twist to the corn!! I highly recommend trying this, especially with grilling season upon us!!
Ingredients:
1/2 cup butter, softened
1/2 cup fresh cilantro, minced
1 1/2 tbsp lime juice
2 tsp grated lime peel
1 tsp Garlic Powder
10-14 medium ears sweet corn, husks removed
Parmesan Cheese, optional
Directions:
In a small bowl, mix together butter, cilantro, lime juice, lime peel, and garlic powder. Once combined, place in a bowl and place in refrigerator to firm back up. Meanwhile, wrap each ear of corn individually and grill corn 15-20 minutes, or until tender. Turn the corn occasionally while cooking. Once corn is cooked, remove from foil and spread cilantro butter over the corn. Sprinkle cheese on top if desired. Serve!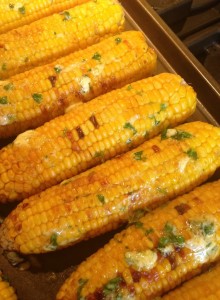 [AdSense-A]