These Chocolate Chip Cookie Dough Whoopie Pies are a sweet tooth lover's dream come true! Creamy cookie dough sandwiched between two chocolate cake cookies!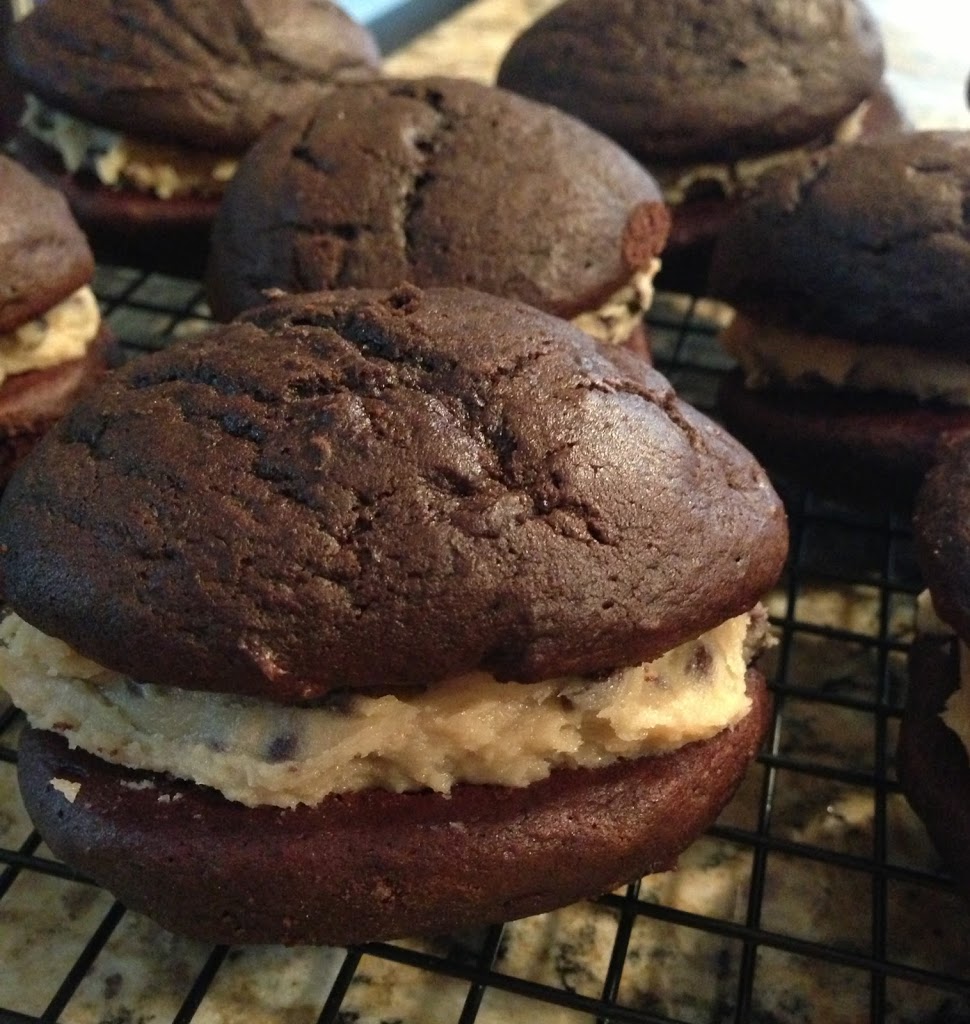 Yesterday morning, being Valentine's Day, I asked my hubby what he wanted for dessert. Of course, I gave him a few options since I didn't want him pulling some elaborate concoction together, he-he. He opted for these yummy chocolate chip cookie dough whoopie pies. Two chocolate cookies with cookie dough in the middle, what is tastier than that, right?!?
I don't know if anything can top it as these were amazing!!!! Such a yummy treat!! The cookies had a cake like consistency and the creamy, eggless cookie dough in center brought these whoopie pies to a whole new level!
What is a whoopie pie?
According to Wikipedia, the whoopie pie is an American baked product that may be considered either a cookie, pie, sandwich, or cake. It is made of two round mound-shaped pieces of usually chocolate cake, or sometimes pumpkin, gingerbread or other flavored cakes, with a sweet, creamy filling or frosting sandwiched between them.
Where did the name Whoopie Pie come from?
Based on Pennsylvania history, Amish women invented the whoopie pie. Holding up with their custom of avoiding wasting ingredients, the women would drop excess cake batter into mounds and bake them. Then they would take two of the mounds and sandwich them together with a creamy frosting. Regardless of where the name came from, I sure am glad they are around! Such tasty treats!
How long are these Chocolate Chip Cookie Dough Whoopie Pies good for?
Once assembled, these Chocolate Chip Cookie Dough Whoopie Pies are good for about 2-3 days!
If you have the cookies in one container and the cookie dough in another container, you can store each for one week. Cookie dough should be stored in the refrigerator until ready to serve.
Other tasty cookie recipes to try:
Peanut Butter Chocolate Chip Cookies
Joanna Gaines Chocolate Chip Cookies
Ingredients needed for these Chocolate Chip Cookie Dough Whoopie Pies
Flour- all purpose
Cocoa Powder
Baking Soda/Salt
Butter- unsalted
Sugar
Egg
Buttermilk- see note below for substitution
Vanilla Extract
Brown Sugar
Milk
Chocolate Chips- mini chips
*See recipe card below for exact amounts
**if you don't have any on buttermilk on hand, add 1 tablespoon vinegar to a measuring cup. Pour milk the rest of the way to the 1 cup mark. Allow to sit for 5 minutes and this is a great substitution
Now that you have gathered your ingredients, scroll down to see recipe directions in card! Enjoy and be sure to let me know what you think of these tasty treats!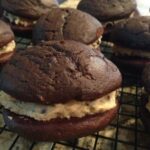 Print Recipe
Chocolate Chip Cookie Dough Whoopie Pies
These Chocolate Chip Cookie Dough Whoopie Pies are a sweet tooth lovers dream come true! Packed with flavor and simple to make, you'll love this tasty treat!
Ingredients
COOKIE
1 3/4

cup

flour

*all purpose

3/4

cup

cocoa powder

1 1/2

teaspoon

baking soda

1/2

teaspoon

salt

1/2

cup

unsalted butter, softened

1

cup

sugar

1

egg

1

cup

buttermilk

1

teaspoon

vanilla extract
FILLING
3/4

cup

unsalted butter, softened

3/4

cup

brown sugar

3

tablespoon

sugar

1/4

cup

milk

2

teaspoon

milk

1 1/2

teaspoon

vanilla extract

1 1/2

cups

flour

3/4

cup

chocolate chips, mini
Instructions
Preheat oven to 400 degrees.

In medium bowl, sift together the flour, cocoa powder, baking soda, and salt.

In stand mixer, beat together butter and sugar until light and fluffy. Add in egg and vanilla. 

Slowly mix in dry ingredients all together and mix until combined.

Using a scoop, place 1 1/2 inch size dough balls on baking sheet (about 12 per sheet). Bake for about 8 minutes. Once baked, cool completely.

Meanwhile, in a medium bowl, mix together butter, brown sugar, and white sugar. Add in milk and vanilla. Mix well. 

Add in flour and mix together.

Once cookies are cooled, place a scoop of cookie dough on the middle of one cookie and spread it evenly.

Top the cookie dough with another cookie creating a "sandwich or whoopie pie".
Nutrition
Calories:
457
kcal
|
Carbohydrates:
64
g
|
Protein:
6
g
|
Fat:
21
g
|
Saturated Fat:
13
g
|
Cholesterol:
67
mg
|
Sodium:
271
mg
|
Potassium:
179
mg
|
Fiber:
3
g
|
Sugar:
35
g
|
Vitamin A:
652
IU
|
Calcium:
61
mg
|
Iron:
2
mg