For my dad's birthday a few days ago, my mom and I made this dish together! Not only was it easy to make, but the flavor was amazing! Using fresh tomatoes and basil, this is quite healthy too!! We served the chicken over pasta, but if you are not a pasta fan, you could definitely serve this by itself!! With summer weather still upon us, this is the perfect dinner for any night! Enjoy!!
Ingredients:
1 lb chicken breast, boneless/skinless
Salt/Pepper/Garlic Powder/Dried Basil
2 tbsp extra virgin olive oil
2 cups chopped tomatoes
4 tsp garlic, minced
4 tbsp cold butter
1/2 cup basil, chopped
Parmesan cheese, shredded
Directions:
Season the chicken with salt/pepper/garlic powder/dried basil.
Warm the olive oil in a large skillet over medium high heat.
Add in chicken once the oil is hot. Cook on one side for about 4-5 minutes.
Flip chicken to other side and cook an additional 4-5 minutes, or until juices start to run clear.
Add in the tomatoes and cook for about 2 minutes.
Add in the chopped basil. Cook for 1-2 minutes.
Cut butter into small pieces and add to the skillet.
Add in the minced garlic.
Turn heat down to low and allow to simmer for about 5 minutes.
Once done simmering, you can serve over cooked pasta, rice, or by itself.
Sprinkle desired amount of Parmesan cheese on top of chicken prior to serving.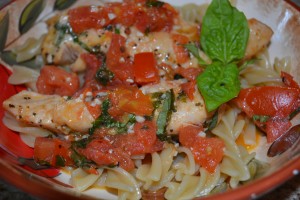 [AdSense-A]