What a name, huh? Well, let me tell you, this is one of those dishes that is packed with so much flavor, you will definitely be going back for seconds!
A few weeks ago, I was in the mood for Cajun and decided to whip this up for dinner. Everything came together in no time, and we ended up having plenty for lunch leftovers the next day! Not only is this meal inexpensive, but you can also change it up to add as little or as much spice as you want!!
Enjoy!!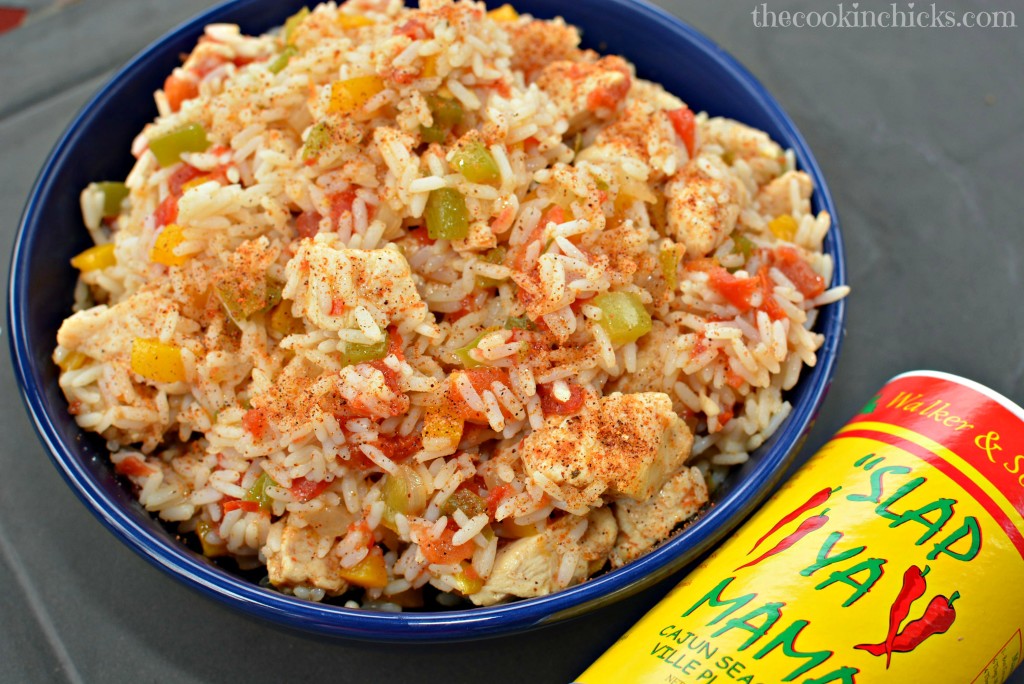 Ingredients:
1 cup uncooked rice (not minute rice)
2 cups chicken broth
1 teaspoon salt
1 lb boneless, skinless chicken breasts, diced
Slap Ya Mama Cajun seasoning
2 tbsp. olive oil
1 onion, diced
1 yellow bell pepper, diced
1 green bell pepper, diced
1 red bell pepper, diced
1 (10 oz.) can Rotel
Directions:
In a saucepan, combine the rice, chicken broth, and salt. Bring to a boil, then reduce heat to low, cover with lid, and allow to simmer for about 15 minutes.
Meanwhile, season chicken generously with Cajun seasoning.
Add 1 tbsp. olive oil to a skillet and once heated, cook chicken until no longer pink.
Remove chicken and place on plate.
Add additional 1 tbsp. olive oil and once heated, cook onion and peppers for about 5 minutes, or until tender.
Add the Rotel to the onion/peppers, as well as additional seasoning if desired.
Place the cooked chicken back into the skillet and stir in the cooked rice.
Allow mixture to cook an additional 1-2 minutes.
Serve!!
Recipe adapted from: Kevin and Amanda