Moore's Marinades recently sent some of their amazing marinades to me and asked me to create a recipe!! Since I love testing out new products and coming up with yummy dishes, I was more than excited!!
Living in Houston, it is HOT! Humid and HOT to be exact! Anytime I can avoid using the oven, I will, hence why this pasta salad was the perfect dinner!! This came together based on what was on sale at my grocery store and the end result was fabulous!! My kids loved it too and asked for seconds, which rarely happens, hehe!
I used squash, zucchini, red peppers, and tomatoes, but you could add just about anything you prefer into this salad. The Zesty Garden Herb sauce really enhanced the flavor of this. It has a bright, savory flavor with a hint of rosemary!! The marinade would also be great to use as a marinade for chicken, pork, fish, and vegetables!!
You can add the chicken, or omit it to make this a meatless dish…..or even as a side dish!! Perfect for picnics, BBQ's, and having company over!!
Check out my video tutorial here for step by step instructions!!!
Enjoy!!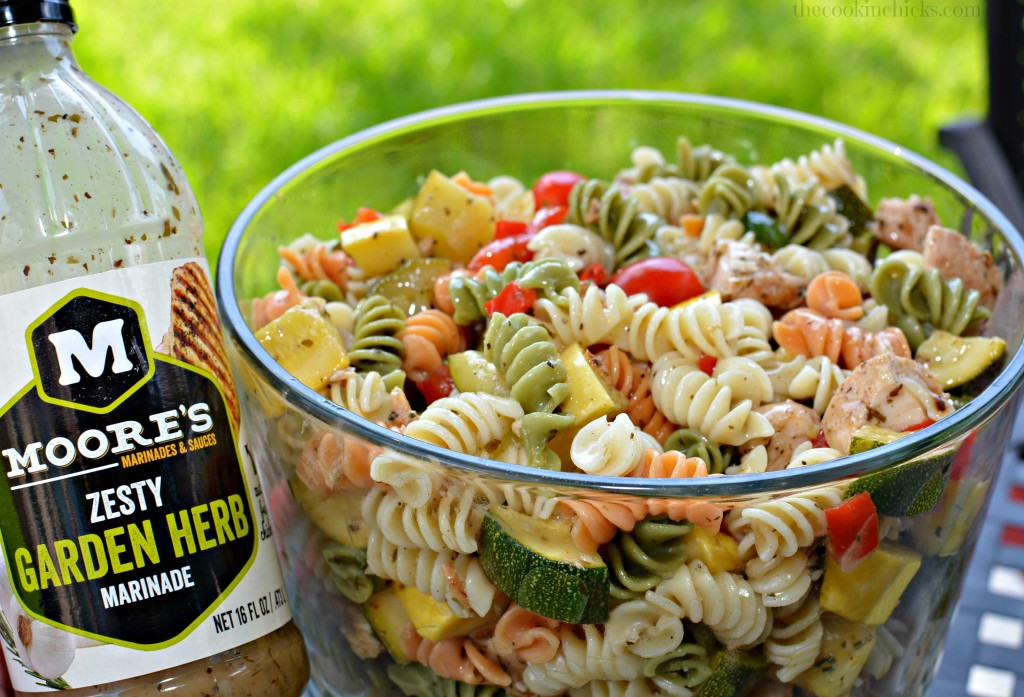 Ingredients:
1 box (12 oz.) tri color rotini
2 medium zucchini's, chopped
2 medium yellow squash, chopped
2 red bell peppers, chopped
1 cup grape tomatoes
1-2 chicken breasts, cooked and diced
1 1/2 cups + 4 tablespoon Moore's Zesty Garden Herb marinade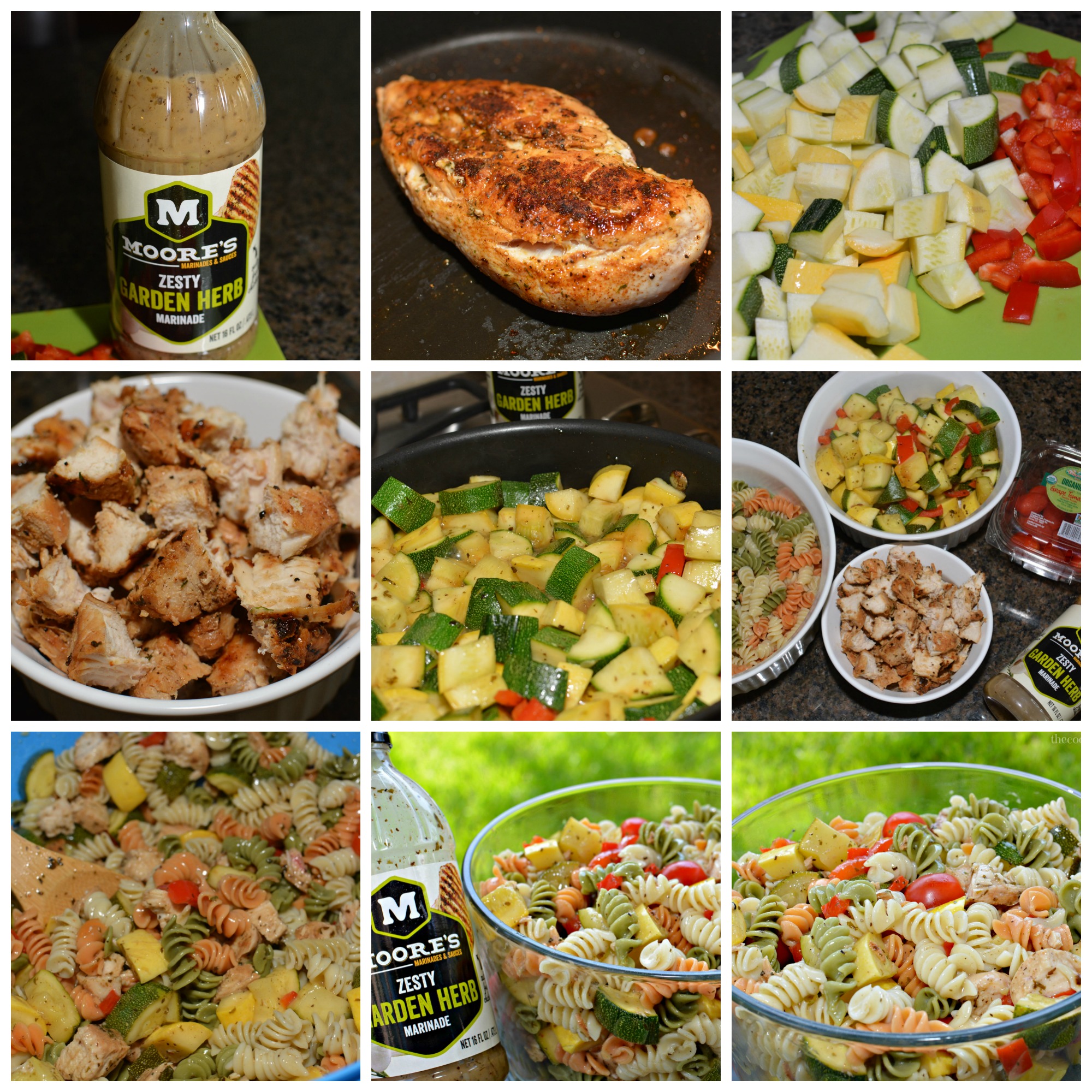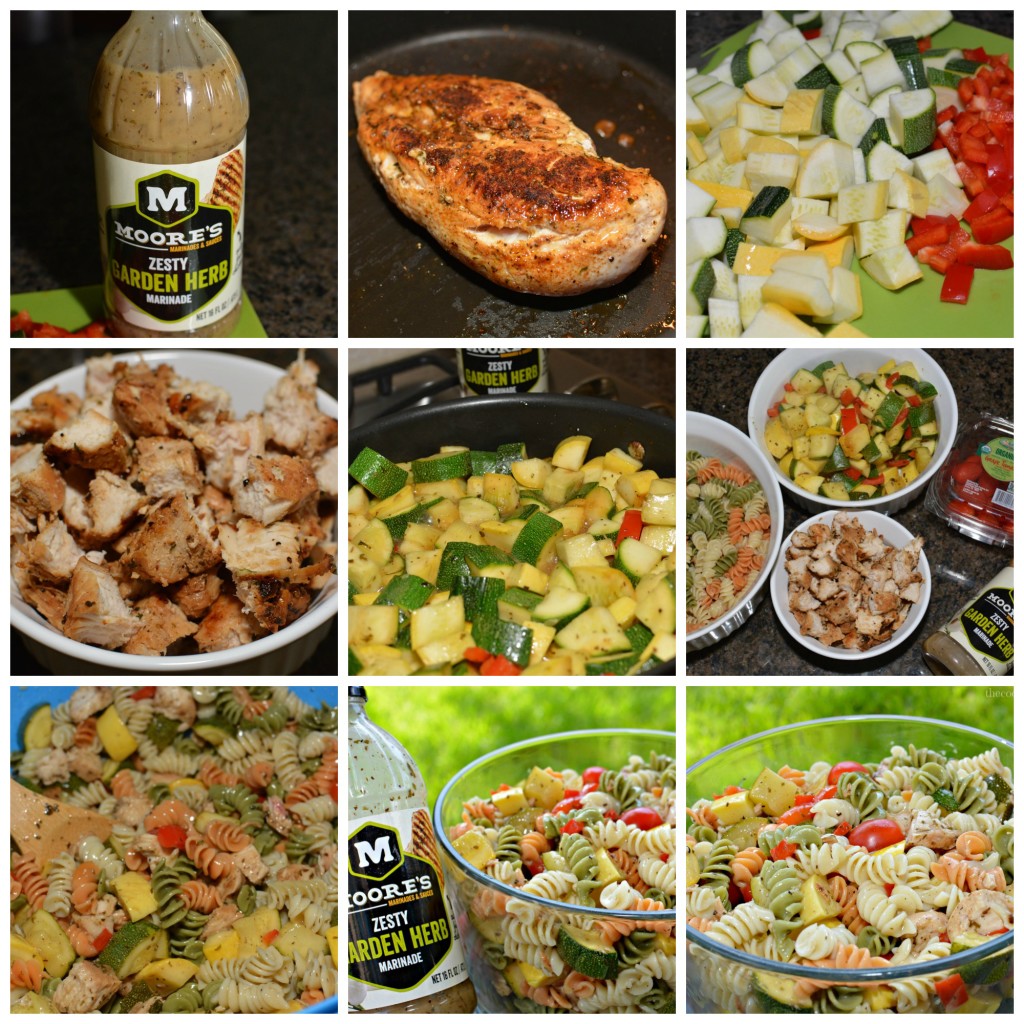 Directions:
Cook pasta according to directions.
Drain water and rinse with cold water. Set pasta aside.
Season chicken breasts with desired seasoning (I used lemon pepper seasoning) and cook on grill or in skillet until no longer pink. Chop into small pieces and set aside.
Using about 4 tablespoon marinade, sauté vegetables until tender, about 5 minutes. Remove from heat and set aside.
Once pasta, chicken, and vegetables are cooled….toss together in a large bowl.
Pour in the marinade and mix well. You can add more marinade if desired!
Add in the tomatoes and toss a few more times to incorporate.
Place in refrigerator until completely chilled and ready to serve! Enjoy!!