I love trying new brownie recipes because I have found that most recipes are so different, and each time you try it, you get a different end result. Some are cake like, others are fudgy, etc. These are a cross in between. Its not cake like and its not fudgy, its right there in the middle. Definitely enjoyed these!!!
Ingredients:
Brownie:
1/2 cup butter
1 cup sugar
2 eggs
1 tsp vanilla extract
1/3 cup unsweetened cocoa powder
1/2 cup flour
1/4 tsp salt
1/4 tsp baking soda
Frosting:
3 tbsp butter
1 cup powdered sugar
1 tbsp honey
3 tbsp unsweetened cocoa powder
1 tsp vanilla extract
Directions:
Preheat oven to 350. Grease an 8×8 baking pan. Melt 1/2 cup butter and add in sugar, eggs, and vanilla. Stir until combined. Add in cocoa powder, flour, salt, and baking soda and mix until combined. Pour batter into baking pan and cook for about 30 minutes, or until toothpick comes out clean. Do not overbake these : )
While brownies are baking, mix 3 tbsp butter (softened), powdered sugar, honey, cocoa powder, and vanilla. Mix/beat until light and fluffy.
When brownies are done cooking, frost the top of them while still warm.
Enjoy!!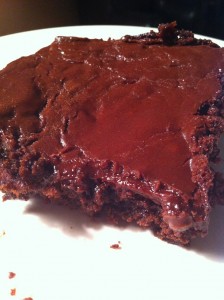 *Be sure to check us out on
Facebook
and enter our dessert contest for a fun prize, : )