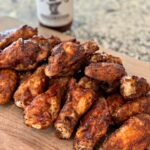 Print Recipe
Smoked Chicken Wings
These Smoked Chicken Wings are incredibly simple to prepare and PACKED with flavor! Whether you serve as an appetizer, snack, or main dish....these will be a favorite with everyone!
In a medium bowl, add seasoning of choice (about 1/2 cup depending on how many wings you cook) *we used 1/2 cup for our 24 wings

Add the baking powder in with the seasoning and stir to combine.

Sprinkle the seasoning thoroughly over entire chicken wing, coating evenly.

Place wings onto grates of smoker and cook at 225 degrees for about 1 hour.

Brush on BBQ and turn heat up to 375 degrees for another 40-45 minutes.

Remove from smoker and enjoy!