This post brought to you by La Crema© winery. The content and opinions expressed below are that of The Cookin' Chicks.
As a food blogger, it's so important to find the perfect wine to pair with my delicious creations.  Sometimes, I don't even know where to start!  Check out this unique program, Virtual Vintner™, that will not only help identify great pairings for food and wine, but also educate you about wine, and even let you participate in a unique wine making experience.
Sign up to become a Virtual Vintner now!
La Crema Winery has introduced a program to educate my followers about the winemaking process called Virtual Vintner™.  Not only will you learn about the winemaking process, the history of wine grapes, and even the best places to grow and harvest grapes, but you will get a chance to participate in a unique, crowdsourced winemaking experience.  Are you ready to Become a Virtual Vintner!?
La Crema, through the Virtual Vintner program, is introducing a program to allow users to vote on different characteristics of the wine, including grape type, harvest time, and barrel treatment.  At the end of the process, a whole new wine will be created, ready to be enjoyed in the fall of 2015!
Do you want to be a part of this unique experience, that will teach you all about the winemaking process?  Sign up to become a Virtual Vintner now!.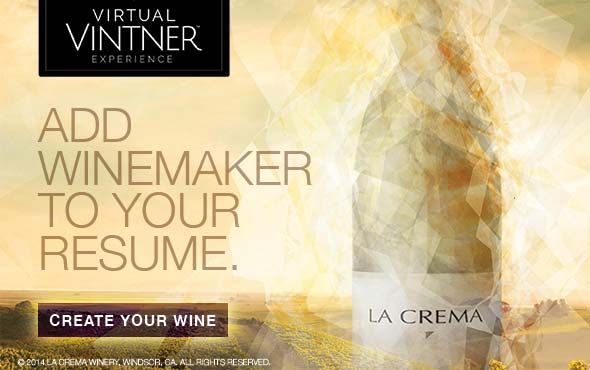 Spend some time on the website, explore the history of wine that dates back to the middle ages, and discover a whole new appreciation for the art of winemaking. The website even gave me insight into my own wine preference through the completion of a unique, image-based quiz!  So, are you Ready to make some wine? Sign up to be a Virtual Vintner.
Remember, the legal drinking age is 21 years old, as always please drink responsibly.