Each week, I make cookies or some type of goodie for my hubby to bring into his office. His coworkers love it and since I enjoy baking, its a win win for all. Plus, I get the goodies out of my house without having to be around the temptation…..phew!!
With Valentine's Day coming up, and my hubby going on a business trip, I decided to make Valentine's Day cookies a bit early for his work. Not only did my kids LOVE coming home to these cute treats, but they were a hit with the entire office. Literally, the entire plate of cookies was gone by mid-morning!!
I am making another batch of these treats this week, this time for my kids and my mom's book club. They are so festive and fun to make, and who doesn't like a good sugar cookie, right??
The icing on these dries hard so you can stack them or store them as needed. The cookie dough itself requires no chilling and has great flavor!!
Hope you enjoy these festive treats!! You can use this recipe with any cookie cutter desired, for any Holiday, so have fun with it!!!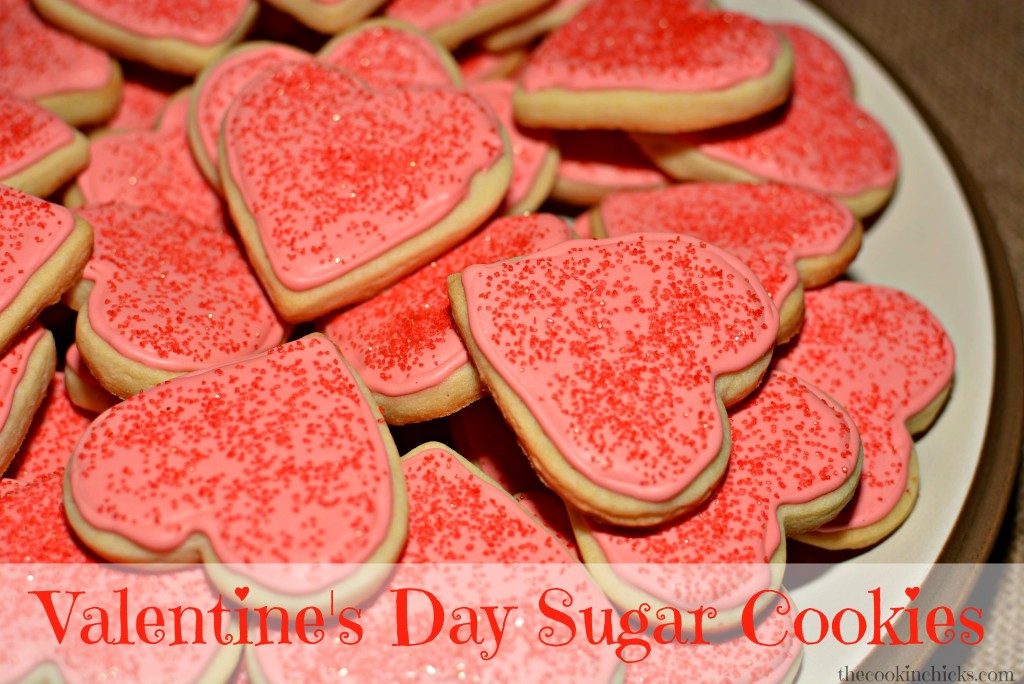 Cookies:
Ingredients:
1 cup unsalted butter, softened
1 cup sugar
1 teaspoon vanilla extract
1/2 teaspoon almond extract
1 egg
2 teaspoon baking powder
3 cups flour
Directions:
In a mixing bowl, cream together the butter and sugar.
Beat in the eggs and vanilla/almond extracts.
In a separate bowl, combine the baking powder and flour.
Slowly add the flour mixture to the wet mixture.
Remove dough from bowl and set out on floured surface.
Using a rolling pin, roll dough to about 1/4 inch thickness.
Use cookie cutters to make shapes in dough and place cookies on cookie sheets.
Place cookie sheets in preheated oven, 350, and bake 7-8 minutes.
Remove from oven and allow cookies to cool completely on cooling rack before icing.
Royal Icing:
Ingredients:
1 lb powdered sugar
3 tablespoon meringue powder
6 tablespoon warm water
Directions:
Beat all ingredients together in mixing bowl until icing form peaks.
For stiffer icing, decrease water amount by 1 tablespoon
To thin icing, add 1 teaspoon water until desired consistency is reached.
To decorate cookies once cooled, outline each cookie with thick icing. Thin out icing once outlined and "pour" icing in center of each cookie to decorate as desired. Use sprinkles if wanted while icing is still wet. Allow a minimum of 1 hour for icing to fully harden before storing or stacking.