With Halloween coming up, I decided to get in the spirit and make a yummy Halloween treat. I will try to make a few more in the next few weeks so you have some great ideas for a fun goodie!! I got this idea from the Taste of Home magazine. I don't know if you have ever read those magazines but I HIGHLY recommend them. They have the best recipes, ideas, articles, and more. If you have any fun Halloween recipes, please share them as I would love more ideas, send us an email at thecookinchicks@gmail.com.
Ingredients:
One tube Pilsbusry sugar cookie dough
2 cups semisweet chocolate chips
3 tbsp peanut butter
Halloween candy (I used candy corn, Crunch bar, Sprinkles, and Gummy Worms)
Directions:
Allow cookie dough tube to sit out on counter for about 5-10 minutes. Roll out cookie dough onto an ungreased 14 inch pizza pan. Bake in oven at 350 for 18-20 minutes, or until golden colored. Remove from oven and allow to cool. In a microwavable bowl, add chocolate chips and peanut butter. Microwave n 30 seconds increments until smooth and creamy. Pour chocolate on top of cookie crust. Spread using spatula until covered. Crumble candy into pieces and arrange on top of the chocolate. Allow to chill in fridge until chocolate is firm. Cut into desired sized pieces and enjoy!!!
*This can be made with leftover Halloween candy for a fun "after Halloween" treat as well, or you can add different candy to make it any "theme" desired!!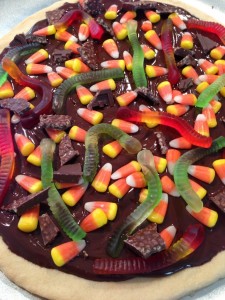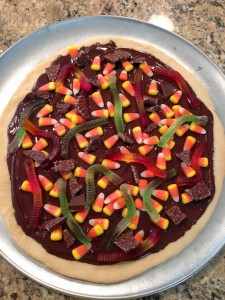 Be sure to like us on Facebook!!