I am sure you have all seen these cupcakes floating around Pinterest and many blogs. If you know me, you know I LOVE me a good cupcake. I love trying new varieties, recipes, flavors, etc. When I stumbled upon this one, I thought, what a brilliant idea! I went for it and although the results were not as good as the pictures I saw, I learned from my mistakes and will know for next time. I made these for a cupcake exchange I am hosting tomorrow, I have a feeling these will be a hit with the kids coming!
Ingredients:
1 box white cake mix (I used yellow and my colors didnt turn out as bright)
1 container frosting
Food coloring (I used four colors, up to you on how many to use)
Muffin tin liners
Directions:
Mix cake mix according to package directions. In separate bowls, divide batter depending on how many colors you are using. If using three colors, use three bowls, etc. Drop a few drops of food coloring into each bowl of batter and stir until desired color is reached. Try not to use too many drops of the liquid food coloring as it will make the batter runny. Once desired color is obtained, take a spoonful of each color of place into a lined muffin cup. Once muffin cups are filled 2/3 full, take a toothpick and gently swirl the tops of each cupcake. Bake cupcakes in preheated oven according to directions on box. Once cooked and cooled, frost the cupcakes and enjoy!!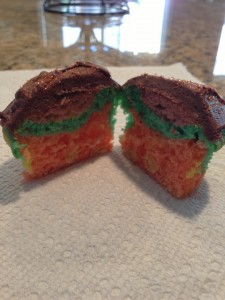 All frosted and ready to eat!