By now, you probably know that my neighbor/friend Ashley and I swap a meal each week. It allows us one night of no cooking, and also gives us variety with what we eat since we make all sorts of yummy recipes!! I thoroughly enjoy my night off of cooking each week, especially since we are still enjoying a homemade meal! Win win!!
Last week, she made my family this tasty taco soup and it was a major hit! My kids loved it and scraped their bowls clean. I love the flavor and how you can add any topping desired. We just used cheese and sour cream since it is what we had on hand, but next time I make this, I will add some chopped tomatoes, avocado, tortilla chips, etc. Once this was finished cooking, my house smelled amazing!! This soup is definitely a must try with the cold weather season ahead!
Thanks Ashley for another amazing dinner!!!
Enjoy!!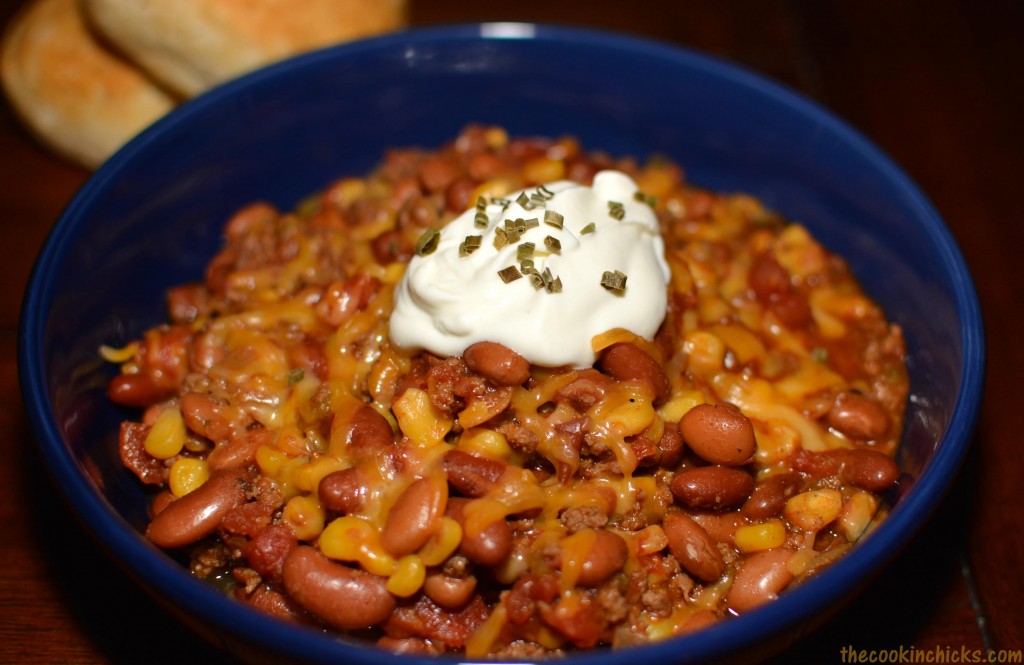 Ingredients:
1/2 tbsp. of olive oil

1 lb. ground beef or turkey

1 cup chopped onion

1 envelope of ranch dressing mix

1 envelope of taco seasoning mix or 2 tbsp. homemade seasoning

1 can of diced tomatoes, undrained

1 can of Mexican Rotel diced tomatoes, undrained

4 oz. can green chilies, undrained

4 cups of beef broth or stock

1 can of kidney beans, drained & rinsed

1 can of pinto beans, drained & rinsed

1 can of whole kernel corn, drained

Finely shredded cheddar or pepper jack cheese, for garnish

(Optional) Diced avocado/ tomatoes/ tortilla chips
Directions:
Add oil to a warm pan over medium heat.
Add onion and ground beef and cook until browned and broken up. Drain the fat.
Sprinkle the ranch dressing and taco seasoning and stir.
Pour meat into the crock pot then add the rest of the ingredients down to the corn.
Stir the ingredients together and cover and cook on low for 6-8 hours.
Optional: stir in a cup of sour cream just before serving.
Top with garnishes.