A few days ago, as I was looking in my pantry, fridge, and freezer, I decided that I could not find anything that sounded yummy for dinner. Do you ever have those days? Hopefully its not just me, haha! I had tons of options, but nothing really jumped out at me. I found a few jars of spaghetti sauce and decided to make spaghetti. I was cooking up the turkey in prep to make spaghetti that evening, however, I thought…..what if I made it in the slow cooker instead? Less work for me, it would allow the flavor to enhance more since it would simmer all day, etc. Not only did it turn out delicious, but it made tons!!! If you have a small family or don't want much leftovers, I recommend cutting this in half! My family ate huge portions and then we were able to eat it a few nights later for leftovers. I love a "saucey" spaghetti, one that the pasta is thoroughly coated in sauce, this dish, was just like that!! Yum!!
Ingredients:
1 lb ground turkey or beef
1/2 teaspoon salt
1 teaspoon garlic powder
1/4 teaspoon ground black pepper
1/2 teaspoon Italian seasoning
3 jars (24 oz) pasta sauce, any flavor desired
1 lb spaghetti noodles
1/2 cup Parmesan cheese, grated
4 oz cream cheese, cut into cubes, (optional as this just makes the sauce a bit more creamier)
2 cups chicken broth
Directions:
In a large pan, cook the beef or turkey over medium high heat. Once no longer pink, drain fat.
Sprinkle the salt, garlic powder, black pepper, and Italian seasoning over meat and mix well.
Pour one jar of spaghetti sauce onto the bottom of your slow cooker.
Take uncooked spaghetti noodles, break in half, and place on top of sauce in slow cooker (yes, pasta is uncooked at this point)
Add the cooked meat on top of the pasta.
Sprinkle the Parmesan cheese and cut up cream cheese on to meat.
Pour one more jar of pasta sauce on top.
Cover slow cooker with lid and cook on high for 2 1/2 hours. Remove lid and stir well (mixture is thick at this point)
Add in last jar of sauce along with the chicken broth. Stir until desired consistency is reached.
Cover slow cooker with lid and cook on high for one more hour.
Serve! Add additional Parmesan cheese if desired!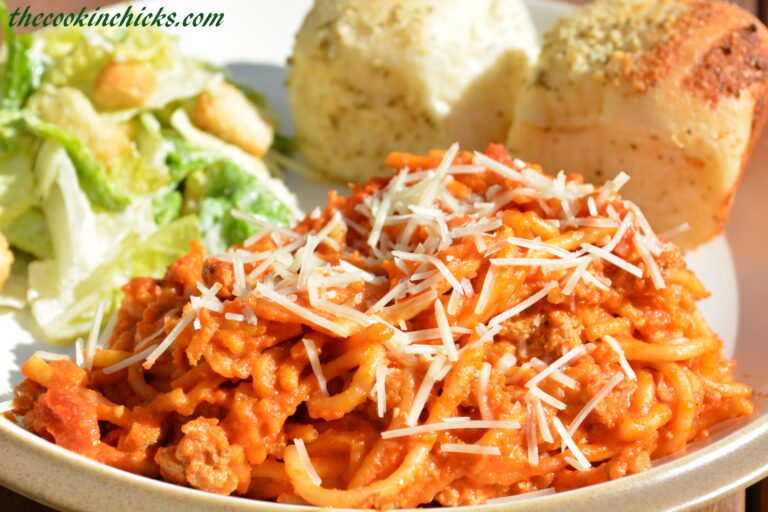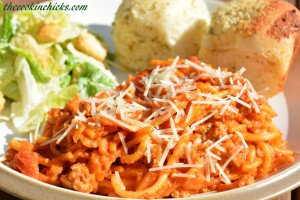 [AdSense-A]