I dont know about you guys but I LOVE Mexican food. If I could make it every night, I would. However, when I make tacos or another dish, I am not always a huge fan of the refried beans. The reason is, I dont like the taste of the canned kind. I dont know why exactly, but its not too flavorful to me, and thus, I rarely serve myself any when I put them on the table. I came across this recipe and since it had to do with my slow cooker, of course, I had to try it. These turned out amazing, full of flavor, made enough to freeze for another dinner, and simple to make.
Ingredients:
1 onion, peeled and diced
3 cups dry pinto beans
1 fresh jalapeno, seeded and chopped
3 tbsp minced garlic
3 tbsp salt
1 3/4 tsp ground pepper
1/4 tsp ground cumin
9 cups water
Directions:
Place the onion, pinto beans, jalapeno, garlic, salt, pepper, and cumin in the bottom of your slow cooker. Add in your water and mix together. Place lid on slow cooker and cook on high for about 8 hours. Add more liquid if needed. Once the beans have cooked, strain the liquid out and use a potato masher to mash beans to desired consistency. Slowly add some of the liquid back into it until consistency is to your liking. *Save your extra liquid for the leftovers. Add some of it in when reheating to keep the consistency.
Serve!!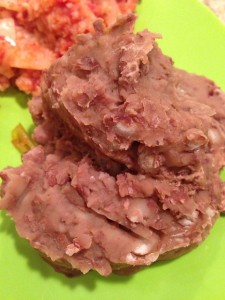 Be sure to
like
us on Facebook!!