Recently, I was given a box of Moore's marinades. Since I absolutely LOVE trying new products, I was eager to test them out. The first flavor that I knew I had to try was their Honey BBQ Wing Sauce. The sauce was spicy and sweet, smoky and tangy- adding the perfect balance of a spicy kick and a sweet stickiness to these meatballs. The sauce is made with real honey and molasses; and is gluten free, has no MSG, and is kosher. With a medium heat level, no wonder Moore's Marinades calls this sauce their "fan favorite".
Over the weekend, my hubby and I put together these meatballs, let them simmer in the slow cooker for a few hours, and then served them over rice. The flavor was amazing and the meal was a definite success. If you prefer, you could also serve these meatballs by themselves, in sandwich form, or over pasta!!
If you love different sauces, Moore's Marinades is a must try! They offer Moore's Original Marinade, Teriyaki, Asian Teriyaki, Honey BBQ, Buffalo Wing, Creamy Ranch Buffalo Wing, and Blue Cheese Buffalo Sauce.
Be sure to click HERE to see our video tutorial on how to make these meatballs!!
Enjoy!!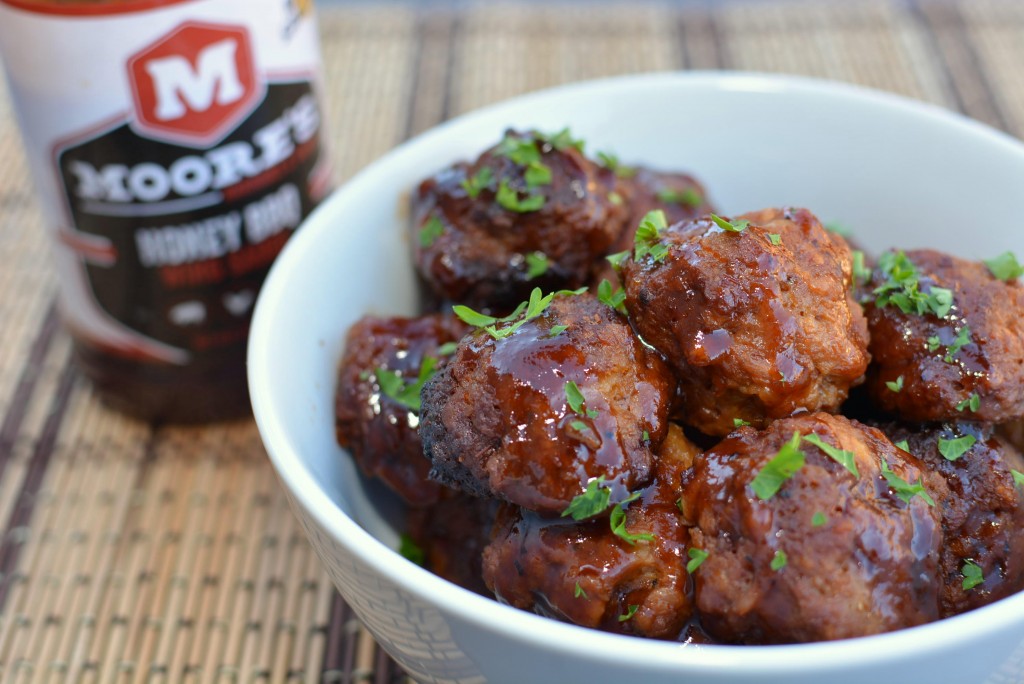 Ingredients:
1 lb ground turkey or beef
1 egg
11 saltine crackers, crushed
4 tablespoon dried minced onion
1/4 cup milk
1/2 tablespoon brown sugar
1/2 teaspoon onion powder
1/2 teaspoon chili powder
1/2 teaspoon salt
1/4 teaspoon smoked paprika
1/4 teaspoon ground cumin
1/4 teaspoon ground black pepper
3/4 cup Moore's Honey BBQ sauce (plus more for drizzling at the end)
Directions:
In a large bowl, add the egg and gently whisk.
Add in the meat, saltines, onion, milk, brown sugar, onion powder, chili powder, salt, smoked paprika, ground cumin, and black pepper.
Using your hands or a wooden spoon, combine until everything is mixed together.
Roll meat mixture into desired meatball size and place on a foil lined cookie sheet.
Continue until all meat is used up.
Bake in preheated oven, 450, for about 8-10 minutes.
Remove from oven and scoop meatballs off cookie sheet and into the bottom of your slow cooker.
Pour the 3/4 cup sauce evenly over the meatballs and place lid on slow cooker.
Allow to cook on low for about 2 hours.
Remove meatballs from slow cooker and place in serving bowl. Drizzle additional sauce on top if desired!
Enjoy!!