These Slow Cooker French Dip Sandwiches include tender beef, melted cheese, caramelized onions, and flavorful Au Jus for dipping!! Let the slow cooker do the work for you!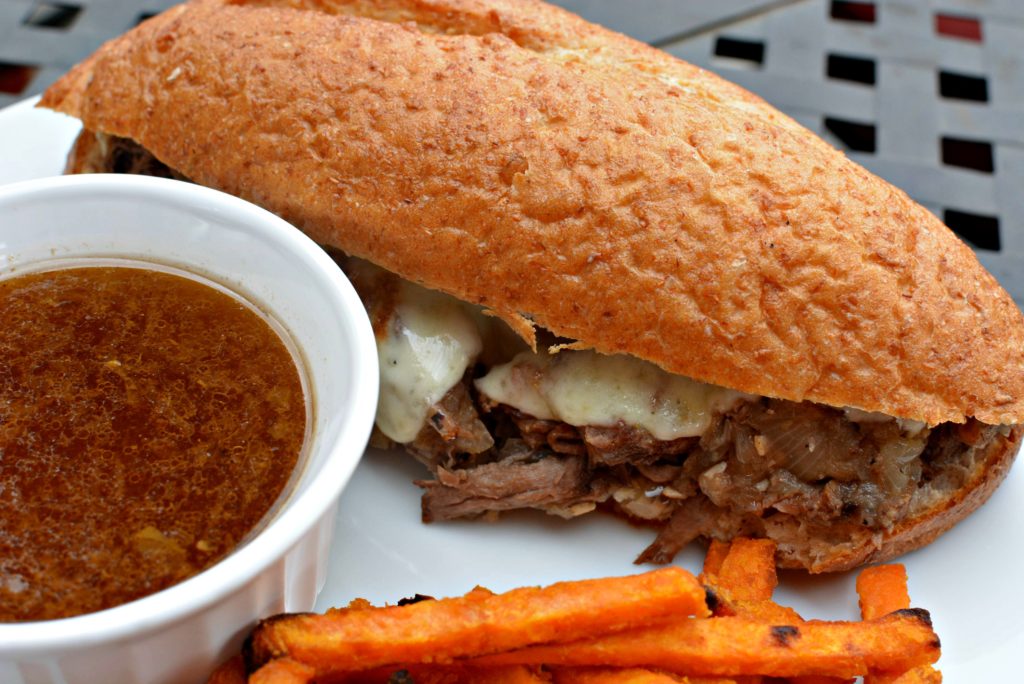 I don't know about your house, but my family and I have a refrigerator/freezer inside, as well as a freezer outside in our garage. We refer to it as our "meat freezer" because its just that….filled with various meats. Years ago, we found ourselves running out of room in our inside freezer, unable to bulk buy the meats on sale at our grocery store, and always forgetting what was in the freezer due to it being too filled. We found a great deal on a deep freezer, brought it home, and ever since…we LOVE that thing!! Anytime I see a great deal on ribs, steaks, chicken breasts, pork, etc….I get to stock up and fill the freezer!!
Last week, I was going through the meat freezer trying to reorganize it. Yes, quite the O.C.D thing to do, right? Anyhow, I found a chuck roast that was just begging to be used up, so I brought it in, began thawing it, and rummaged through my pantry trying to figure out how to serve it! Since I was pressed for time due to various appointments that day, I turned to my slow cooker to do the job for me! After prepping the meat and throwing a few ingredients into the slow cooker, dinner was prepped and I was able to move on with my day. I will confess to having to stop at the store later that day for fresh rolls, I don't typically keep those on hand, haha!
When the kids and I walked in the door several hours later, the house smelled Heavenly. Something about caramelized onions just makes my mouth water!!
Once dinnertime rolled around, all I had to do was slice the beef (you can shred if desired), strain the Au Jus, and gather up the yummy onions. My husband came in the door from work and immediately asked what was for dinner because it smelled amazing. Not only were the sandwiches practically inhaled by all, but everyone fought over the leftovers for their lunch the next day!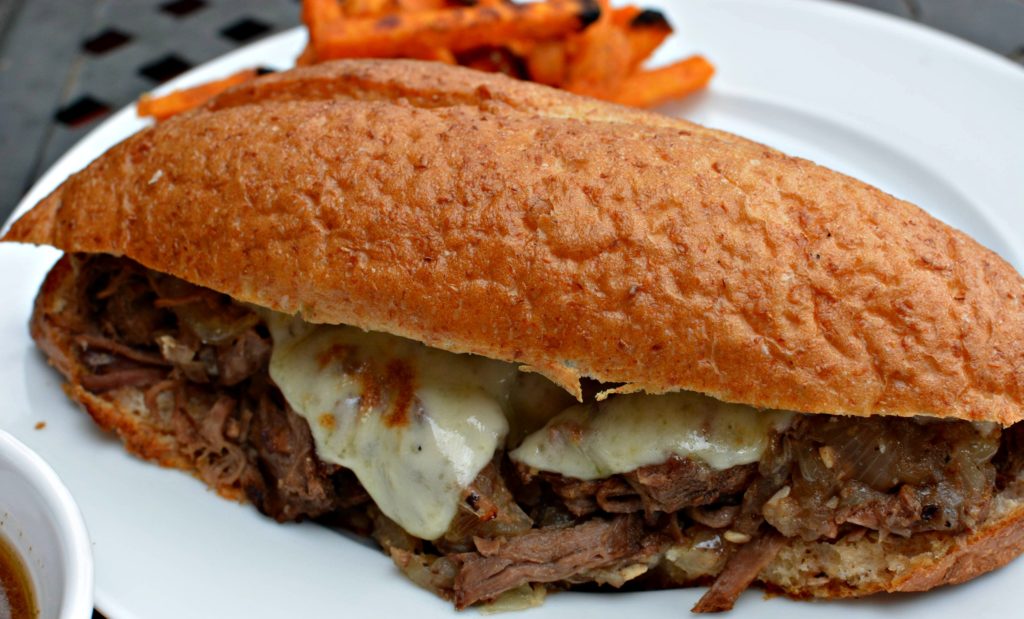 These sandwiches have already been requested twice since then, and its been about a week since we first tried them! I call that a hit, right?!?!
Enjoy!!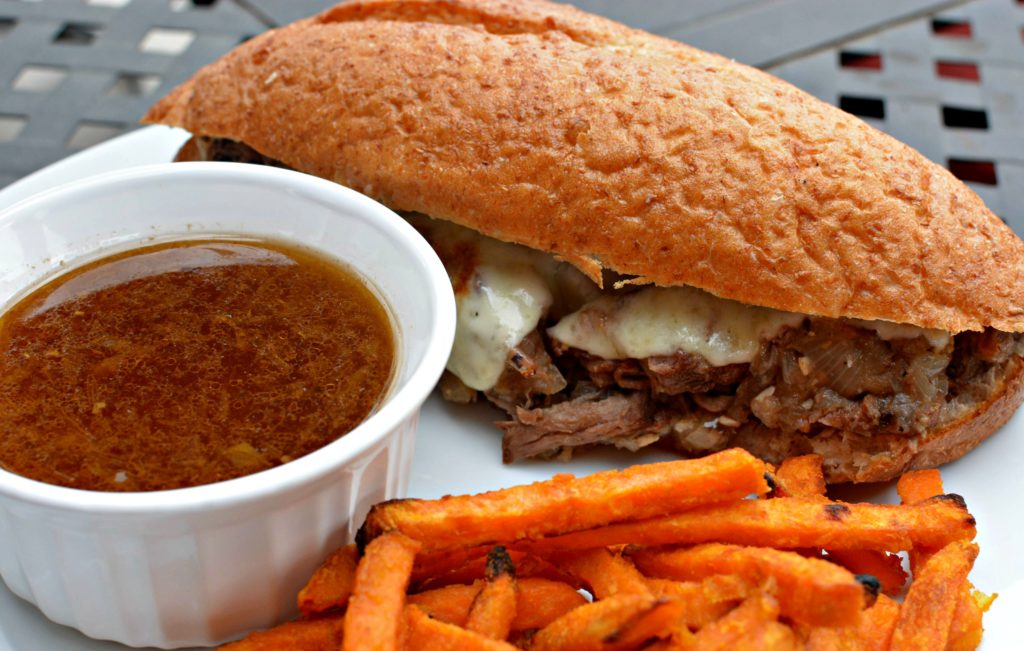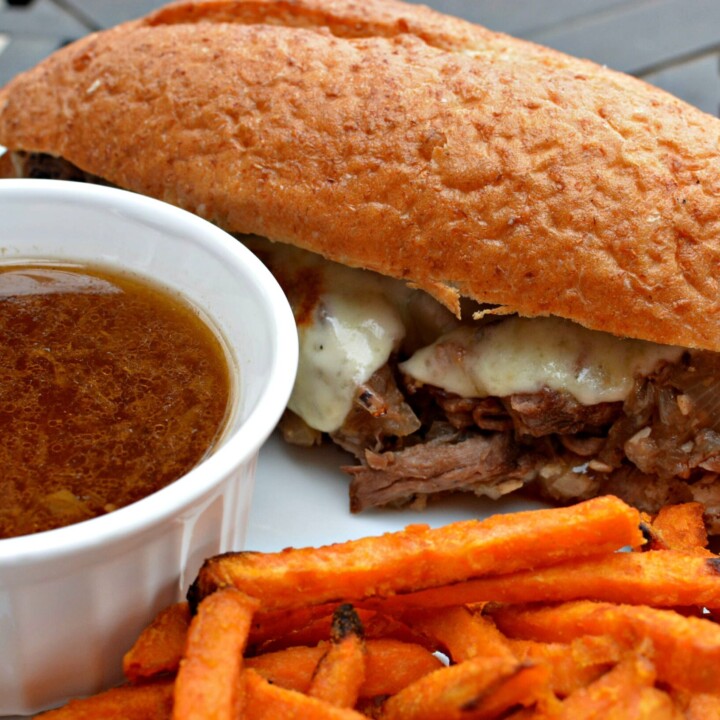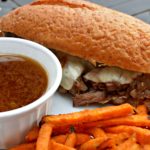 Print Recipe
Slow Cooker French Dip Sandwiches
Tender beef, caramelized onions, melted cheese, and Au Jus for dipping! Served on a bun, let the slow cooker do all the work!
Ingredients
2

lb

beef chuck roast, trim fat

3

cups

beef broth

1/4

cup

worcestershire sauce

2

tablespoon

olive oil

2

onions, sliced

5

garlic cloves, minced

salt/pepper to taste

4

sandwich rolls (I find ours in the bakery)

4

provolone cheese slices
Instructions
Trim excess fat off roast and sprinkle desired amount of salt/pepper on top.

In a bowl, combine the beef broth and Worcestershire sauce. *If you do not have Worcestershire sauce, steak sauce (such as A-1) can be substituted.

In a skillet (I use a cast iron), heat the olive oil over medium high heat. Sear the roast until all sides have a deep brown color.

Transfer roast to the slow cooker.

In the same skillet used previously, add the sliced onion and allow to cook for about 4-5 minutes.

Add the garlic to the onions and cook for 2-3 minutes.

Transfer the onion/garlic mixture to the slow cooker.

Pour the broth mixture into the slow cooker and place lid on top.

Cook on high for about 4 hours, or low for 6 hours. Beef should be very tender once cooked.

Carefully remove meat and shred or slice thinly.

Using a strainer, pour the juices from slow cooker to separate the onions from the broth mixture.

Place meat and onions back into the slow cooker to keep warm.

Pile meat and onions onto each roll and top with a cheese slice.

To melt cheese, if desired, place under a oven broiler for a few minutes.

Once cheese is melted, serve immediately with a side of au jus for dipping!!
Tools used in recipe: