This year, my hubby and I decided to try making apple butter. We are both huge fans of it and thought, if we can it and make a big enough batch, we can even give some away as gifts for Christmas. I went through several recipes before stumbling upon this one. It caught my eye because all the ingredients go into your slow cooker and its perfect to walk away from and allow it to cook without you. It took my hubby and I about 20 minutes getting everything ready to go in the slow cooker. *It was 20 minutes because we had a double batch going, yes, two big ol' slow cookers going at the same time.
This apple butter is perfect on toast, biscuits, rolls, and more. We made about 13 large jars and plan on using a few of those for part of my kids teacher gifts at Christmas!!
Ingredients:
5 1/2 lbs apples, peeled/cored/finely chopped
4 cups white sugar
2 teaspoon ground cinnamon
1/4 teaspoon ground cloves
1/4 teaspoon salt

Directions:
Place the apples in the slow cooker. In a medium bowl, mix the sugar, cinnamon, cloves, and salt. Pour the mixture over the apples in the slow cooker and mix well.
Cover with lid and cook on high 1 hour. Reduce heat to low and allow to cook 9-11 hours, stirring occasionally, until mixture is thickened and dark brown. (We put these in the slow cooker around dinner time and let them cook all night).
Uncover and continue cooking on low 1 hour. Stir with a whisk, if desired, to increase smoothness.
Spoon mixture into sterile containers and cover. Refrigerate or freeze!
*We decided to can these so we could store them in the pantry instead. If you choose this method, just follow normal canning instructions using the hot bath method!!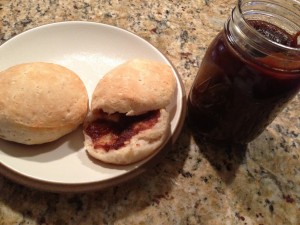 Be sure to like us on Facebook