Growing up, my mom used to make these for dinner. It has always been known as a "comfort food" dinner to me. My brother loved this dinner so much that he used to request it as his "birthday dinner" from my mom each year. It is almost always made with a side of mashed potatoes and spinach in our house. Not only is this meal quite simple to make, it has tons of flavor, and its inexpensive!!
Ingredients:
1 can Wild Alaska Red Salmon (de-boned and de-skinned)
1 egg
5-8 single square saltine crackers, crushed finely
1/2-1 tbsp lemon juice
Flour (for coating)
Salt/Pepper to taste
Oil (enough to cover bottom of skillet)
Directions:
Drain and remove bones/skin from salmon.
In a bowl, mix salmon,egg, saltine crackers, lemon juice, salt and pepper.
Form into patties.
Place oil in skillet heat over medium heat.
Dip patties in flour and drop in pan.
Slowly fry in skillet until slightly brown, about 3 minutes per side.
Remove and place on plate with napkin to absorb excess oil.
Enjoy!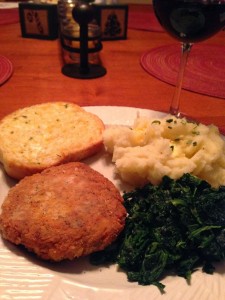 [AdSense-A]