A few weeks ago, my husband and I scored an amazing deal on a panini press. We have always been huge fans of panini's and there is a really yummy panini restaurant that we love to go to. When we got the press, we started the hunt for some yummy recipes. This is the first recipe we have tried, so there are many more to come. This one was soooooo flavorful. It only took us a few minutes to make it too! If you dont have a press, no big deal, hop on over to this website for alternatives such as a skillet, oven, grill pan, etc.
Happy Panini Making!
Ingredients:
1/4 cup light mayonnaise
1 tbsp horseradish
2 tbsp butter
1 cup thinly sliced onion rings
1 loaf ciabatta bread
1/2 lb thinly sliced roast beef
1/2 lb sliced provolone cheese
1/2 cup sliced green/red peppers
Directions:
Combine mayonnaise and horseradish in a bowl. Set aside. Melt butter in a skillet until sizzling. Add in onions and cook until tender. To assemble sandwich, spread horseradish mayonnaise onto cut sides of bread. Layer bottom half with roast beef, onion, cheese, and pepper rings. Place top half of bread on top creating a sandwich. Heat panini press. Place sandwich onto press and cook until golden brown. Remove sandwich from press and cut sandwich in half to serve.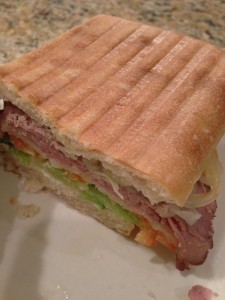 Be sure to like us on Facebook!!!