For Fourth of July, my family took off and went to Oregon to visit my aunt, uncle, and cousins. When we got there, my aunt had tons of yummy food. One of the desserts she had made was this yummy trifle. It was so pretty and it tasted even better. I took some pictures of it and had to add it to the blog, since it was quite festive! Although it is perfect for Fourth of July, you can make it any time of the year!!
 Ingredients:
10 oz angel food cake, cubed
2 pints strawberries, sliced
2 pints blueberries
6 tbsp sweetened condensed milk
1 1/2 cups cold water
1 package sugar free white chocolate instant pudding mix
12 oz whipped topping
Directions:
In a bowl, mix together the condensed milk and water.
Whisk in the pudding mix for two minutes. Let stand for about two minutes, and fold in the whipped topping.
Arrange half the cake in the bottom of a trifle dish.
Sprinkle evenly with a layer of blueberries.
Spread half of the cream mixture on top.
Top with a layer of strawberries.
Layer the remaining cake on top of the strawberries, and follow up with the cream mixture.
Finish by arranging the remaining blueberries and strawberries on top in a pretty pattern.
Cover and refrigerate at least one hour!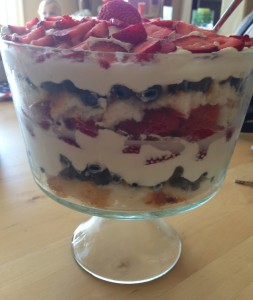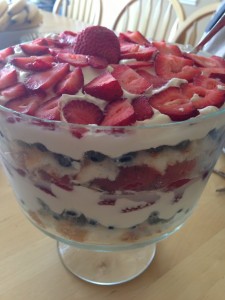 [AdSense-A]