A few weeks ago, I received the Fall edition of the "Taste of Home" cooking magazine. As I have mentioned in previous posts, that magazine is my all time favorite magazine. I get so excited when I get the newest edition in the mail. As I was skimming through recipes, this pasta dish jumped out at me. Pumpkin pasta? Hmmm…..sounds interesting right? I am on a huge pumpkin kick right now, especially now that Fall is here, so I decided that I needed to try this! It was amazing!! We had my mom over for dinner and she has joined us for many different meals I have cooked, but this one was deemed as her favorite. Her words were "this is out of this world good, my favorite dish you make, I am going to print this recipe and make it for company, etc". Pretty good review huh?? My five year old had two plates of this pasta, that almost never happens!! I definitely encourage you to try it, you will love it!!
Ingredients:
1 box penne pasta
1 lb Italian sausage (I used mild because of my kids)
1 onion, chopped
4 cloves garlic, chopped
2 tsp olive oil
1 cup white wine or chicken broth (I used chicken broth)
1 bay leaf
2 cups chicken broth
1 cup canned pumpkin
3 tsp minced sage (fresh) or 1 tsp dried ground sage
1/2 tsp salt/pepper
Dash of Nutmeg
5 tbsp whipping cream
Parmesan Cheese
Directions:
Cook pasta according to directions. Meanwhile, in a skillet over medium heat, cook sausage until no longer pink. Drain fat, leaving about 1 tsp remaining. Move sausage to a bowl or paper towel. Cook and stir garlic, onion, and oil in the remaining tsp of drippings, until tender. Add wine (or 1 cup chicken broth) and bay leaf. Allow to simmer until liquid is reduced by half. Stir in remaining chicken broth (2 cups), pumpkin, sage and remaining seasonings. Cook about 1-2 minutes. Add in cream and sausage, heat through. Remove bay leaf. Drain pasta and transfer to a large bowl. Add sausage mixture and toss until thoroughly coated. Sprinkle with cheese and serve!!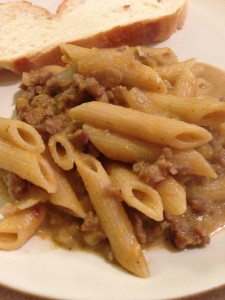 Be sure to like us on Facebook