I'm always trying to find something different for my kids to eat for lunch and I came a crossed this recipe in one of my cookbooks and thought I would give it a try. It was really yummy! For some reason my son is not a big fan of crescent rolls but I thought they were perfect!!
Ingredients:
1 tube (8oz) refrigerated crescent rolls
16 slices pepperoni, cut into quarters (we use turkey)
2 pieces string cheese cut into quarters
3/4 teaspoon Italian seasoning,divided
1/4 teaspoon garlic salt
Directions:
Unroll crescent dough;separate into eight triangles. Place eight pepperoni pieces on each. Place a piece of cheese on the short side of each triangle; sprinkle with 1/2 teaspoon Italian seasoning. Roll up each, starting with the short side;pinch seams to seal. Sprinkle with garlic salt and remaining Italian seasoning.
Place 2 in. apart on a greased baking sheet. bake at 375 for 10-12mins or until golden brown.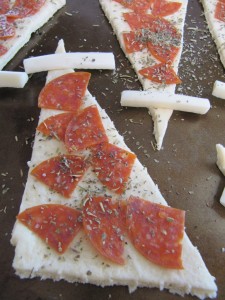 Before cooking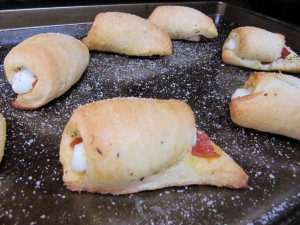 After