As I have mentioned previously, eMeals.com gave me a subscription to their meal planning service, so I could do a review for them. A few weeks ago, when I received my first week of meals, I was skimming through it and came across this Cod recipe. My husband and I love a good fish recipe, so I decided it would be the first recipe to try. I made a few changes and the family loved it. It was light tasting, full of flavor, and quick to make!
Ingredients:
4 Cod fillets (you may also use Tilapia)
Salt/Pepper
Fresh Thyme
2 fresh lemons, sliced
Directions:
Preheat oven to 400. Place each fillet on a piece of tin foil. Sprinkle the fish with salt and pepper. Place sliced lemons on top of fillet, along with a few sprigs of thyme. Close up tin foil, creating a packet. Place packets on a baking tray and place into oven. Allow to cook about 12-15 minutes. Remove from oven, carefully open packet and serve. We served our Cod with our canned peaches and Orzo pasta!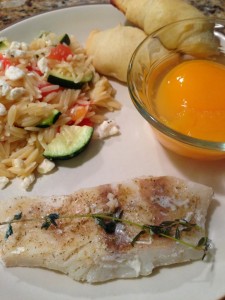 If you are interested in signing up for eMeals.com, be sure to click the banner below to check out their service!!