This meal is beyond easy!! It literally can be your entire dinner, in one crock-pot Super easy cleanup as well, which is a double winner! My kids loved it because everything was "squishy" and easy to eat, yet full of flavor!!
Ingredients:
1 lb boneless skinless chicken breasts
16 oz bottle Italian dressing
1/2 cup Parmesan cheese
Italian Seasoning
3-4 potatoes, peeled and sliced
1/2 bag mini carrots
Directions:
Place liner or spray inside of slow cooker to grease it. Place chicken on bottom. Pour half the Italian dressing on top of chicken. Place carrots and potatoes on top of chicken. Pour remaining dressing on top of carrot/potatoes. Cover slow cooker and cook on low 7-8 hours, high about 4 hours. Once cooked, remove carrots and potatoes. Serve with the chicken. *You can scoop additional dressing on top of chicken from bottom of slow cooker to give it more flavor!!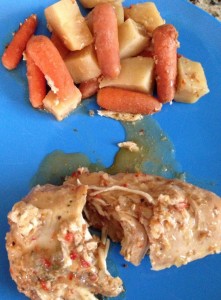 Doesn't look pretty in the picture, but trust me, its yummy, : )