Typically, Tammy, Adriana, and I blog recipes for you to try out. I thought it would be fun to add a category to the blog that included fun kitchen tips for cooking, cleaning, baking, etc.
This one is amazing! I am trying a new pasta dish out tonight (if its yummy, you will see the recipe soon) and needed to cook bacon. I dont know about you but I cannot stand having the bacon grease splatter all over my clean stove/counters. I have tried the microwave, but then it stinks up my microwave for days afterwards. I have tried using my George Foreman but the grease tray fills up so fast and then I am trying to dump it and catch it, etc. leaving a huge mess. I came across this method, gave it a try, and SO IMPRESSED. I had zero grease in my kitchen. Yes, my house smells like bacon, but come on now, thats okay since bacon is awesome, hehe. It cooked perfectly and is crispy, which is what I needed. Definitely try this is you like a no mess clean up!!
Directions:
Line a cookie sheet with parchment paper. Place bacon strips on paper in a row, try not to overlap them. Place in a cold oven (DO NOT preheat). Turn oven on to 400 and cook 17-19 minutes, or until desired color/crispness is obtained. Remove from oven and place bacon on paper towels to soak up grease. Once dry, eat or use in recipes, etc.
Carefully fold up the used parchment paper, throw it away and bam…..all done. If you like saving the grease, tilt cookie sheet up so it drains into a container.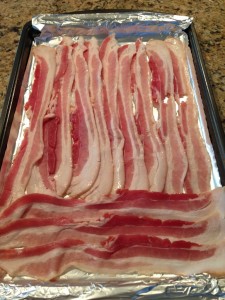 All ready to go in oven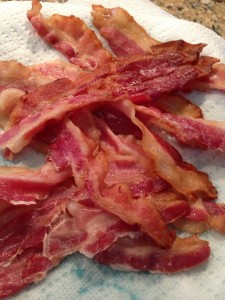 Crispy!!