I don't know about you, but nothing is better than a yummy, warm, chocolate cake coming straight out of the oven, covered in a fudge-pudding like mixture, served with a scoop of ice-cream. Am I right?? YUM!!! This may not be the prettiest cake to serve, since you are not really able to slice pieces. This is more of a scoop and dump into a bowl type cake. It is amazing though, and if you are a chocolate lover like I am, you must try this….right now, regardless of the time, : )
*The "hot fudge" is similar to a pudding type consistency!
Ingredients:
1 cup all purpose flour
3/4 cup sugar
6 tbsp cocoa powder, divided
2 tsp baking powder
1/4 tsp salt
1/2 cup milk
2 tbsp canola oil (or vegetable oil, coconut oil, etc.)
1 tsp vanilla extract
1 cup brown sugar
1 3/4 cup hot water
Ice Cream (vanilla is best, I only had chocolate on hand and it worked too though)
Directions:
Preheat oven to 350.
In a large bowl, mix together flour, sugar, 2 tbsp cocoa powder, baking powder, and salt.
In a different bowl, mix together milk, oil, vanilla.
Add the milk mixture to the flour mixture, stirring until mixed well.
Pour into the bottom of a un-greased, 9 inch, square, baking pan.
In a small bowl, mix together the brown sugar and remaining 4 tbsp cocoa powder.
Sprinkle mixture on top of batter.
Pour hot water on top, do not stir the mixture.
Place in oven and cook 35-40 minutes.
Serve immediately, adding a scoop of ice cream if desired!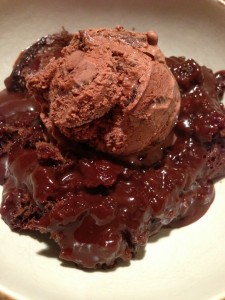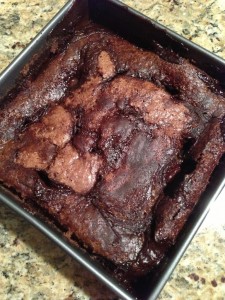 [AdSense-A]