My husband is in love with chicken Alfredo  Every time we head to Olive Garden, I can pretty much guarantee that he will be ordering it. When Olive Garden runs their never ending pasta bowl special, watch out, he can polish off at least two plates of it, he-he  I have tried to make Alfredo before using the jars, but am always left disappointed as it isn't quite the same. I came across this recipe and once tweaked a bit, it came out amazing. The best part of all is that its not nearly as bad for you as other similar recipes since it doesn't use the heavy creams : ) This was super simple and a hit with the family. As my five year old said "this is the yummiest pasta ever in the whole wide universe"!!
Ingredients:
2- 2/12 cups low fat milk (depending on if you prefer thicker sauce or thinner)
4 oz low fat cream cheese
3 tablespoon flour
1 teaspoon salt
1 tablespoon butter
5-6 cloves garlic, minced
1/2 cup Parmesan, grated
2-3 chicken breasts, cooked and diced
Fettuccine pasta, cooked
 Directions:
In a blender, mix together milk, cream cheese, flour, and salt. Blend until smooth. In a large skillet over medium-high heat, melt butter. Add in minced garlic and saute for about 30 seconds. Add in milk mixture to skillet. Allow to simmer 3-4 minutes, stirring frequently. Sauce will thicken as cooking. Remove from heat and add in chicken/cheese. Mix well and cover skillet. Allow to sit around 10 minutes. Once sauce is done, add it to cooked pasta and serve.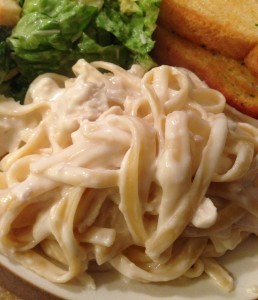 [AdSense-A]