With all three of my kiddos in school this year, I decided to join the gym and work on eating healthier. When my youngest was home with me, I would work out on our treadmill, but found myself snacking more during the day, eating some of the lunches he did (pb & j), and overall, just being focused on "mom duty".
I have always eaten a fairly healthy breakfast and had no issues with dinner, but lunch was a killer. I was either on the go and had no time to make something, or I chose something that was loaded with calories and ended up making me hungry just a few short hours later.
Now, I make these mason jar salads on a Sunday afternoon/evening and am good to go for the week. I like to change it up (more recipes coming) and try new salad combos, turkey wraps, etc., but I have found that I am no longer hungry in the early afternoon hours, and have plenty of energy to go go go!!
These are perfect for at work, on the go, or even packing lunches for the hubby/kids!! My hubby has taken quite of few of these salads to work with him and always says how much he enjoys them!!
Skip the pb & j or going out for that burger/fries and try these salads, you'll love them!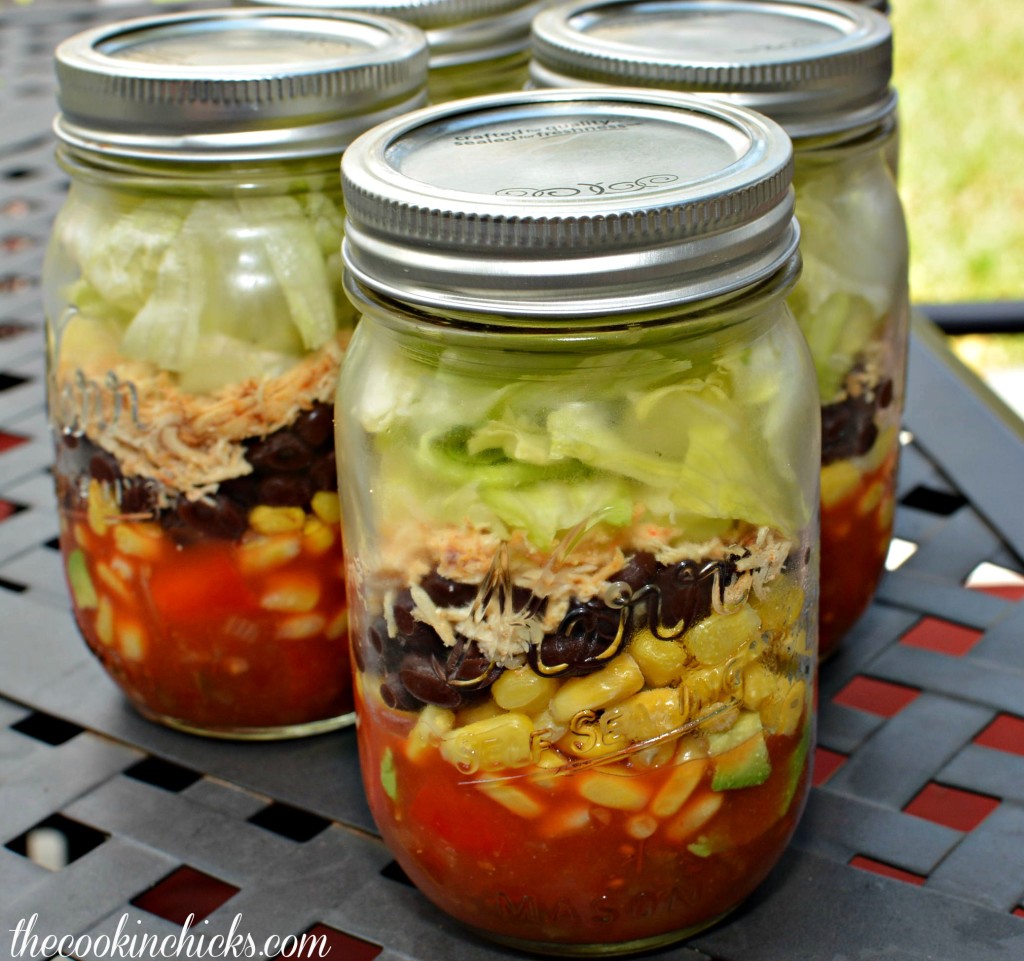 Ingredients: (makes 5 mason jar salads)
1 1/4 cup salsa
6 oz. plain Greek yogurt
1 cup cherry tomatoes, halved
1 red onion, chopped
2 cans black beans, drained and rinsed
1 cup frozen corn
2 avocados, peeled and chopped
Pepper Jack cheese, cubed
5 cups chopped Romaine lettuce (or spinach if you prefer)
Directions:
Line up each empty jar.
Place 1/4 cup salsa on the bottom of each jar.
Add about 1 tablespoon Greek yogurt to each jar.
In a small bowl, combine the tomatoes, red onion, black beans, and corn.
Evenly divide mixture between 5 jars.
Add a few chopped avocado's to each jar.
Depending on how much cheese desired, place a few cut cubes into each jar.
With the remaining space in jars, pack as much lettuce as you can inside.
Close jar and seal.
Refrigerate for up to 5 days!!
*When ready to eat, simply pour contents onto a plate and enjoy OR shake jar several times to combine mixture and use a fork to eat from jar!!
** You can add in some cooked chicken if desired! I try to cook two chicken breasts and shred them into the jars for some added protein.