Add more salads into your weekly meals and make these delicious Fiesta Mason Jar Salads for the entire week in just a matter of minutes. Easy to make and packed with flavor!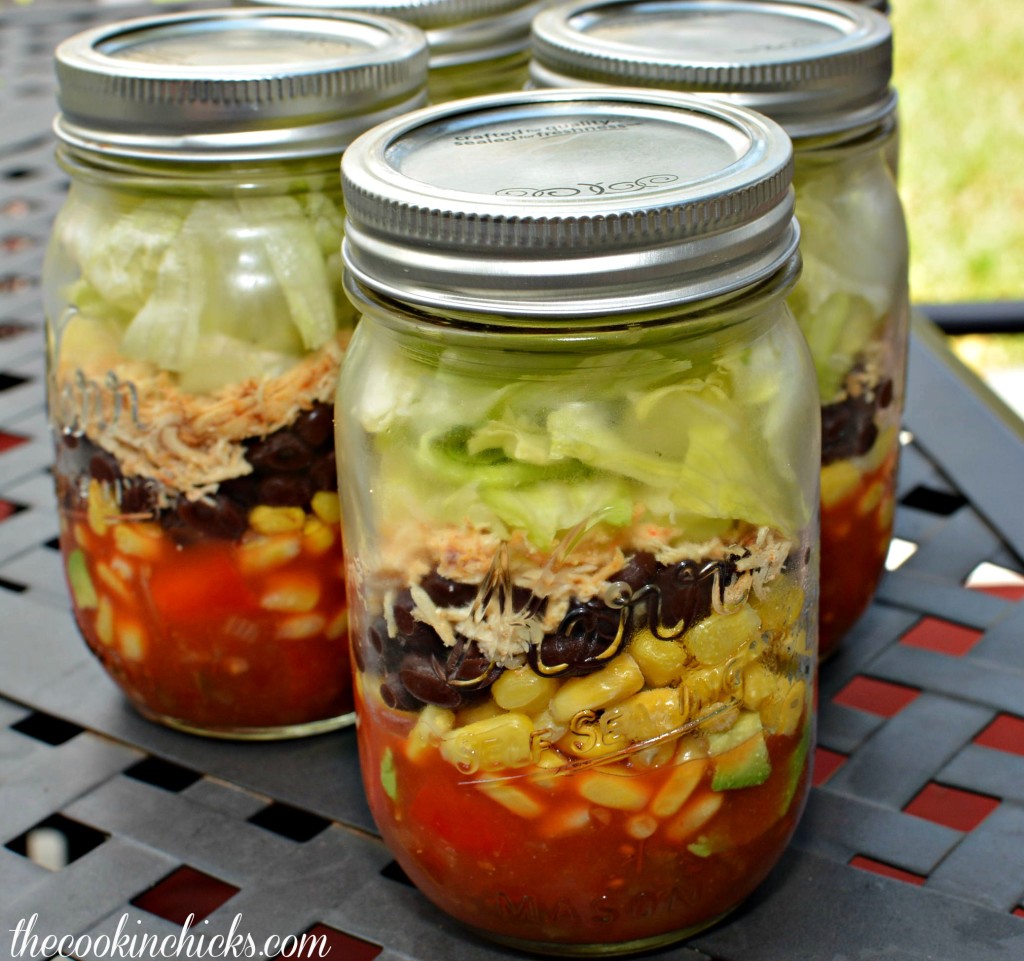 With all three of my kiddos in school this year, I decided to join the gym and work on eating healthier. When my youngest was home with me, I would work out on our treadmill, but found myself snacking more during the day, eating some of the lunches he had (pb & j), and overall, just being focused on "mom duty".
I have always eaten a fairly healthy breakfast and had no issues with dinner, but lunch was a killer. I was either on the go and had no time to make something, or I chose something that was loaded with calories and ended up making me hungry just a few short hours later.
Now, I make these mason jar salads on a Sunday afternoon/evening and am good to go for the week. I like to change it up (more recipes coming) and try new salad combos, turkey wraps, etc., but I have found that I am no longer hungry in the early afternoon hours and have plenty of energy to go go go!!
Quick, flavor packed Fiesta Mason Jar Salads make an easy meal option that is healthy and budget friendly!
These are perfect for at work, on the go, or even packing lunches for the hubby/kids!! My hubby has taken quite of few of these salads to work with him and always says how much he enjoys them!!
Skip the peanut butter and jelly sandwiches or going out for that burger/fries and try these salads, you'll love them!
Ingredients Needed for these Fiesta Mason Jar Salads:
1 1/4 cup salsa
6 oz. plain Greek yogurt
1 cup cherry tomatoes, halved
1 red onion, chopped
2 cans black beans, drained and rinsed
1 cup frozen corn
2 avocados, peeled and chopped
Pepper Jack cheese, cubed
5 cups chopped Romaine lettuce (or spinach if you prefer)
How to prepare:
Line up each empty jar.
Place 1/4 cup salsa on the bottom of each jar.
Add about 1 tbsp. Greek yogurt to each jar.
In a small bowl, combine the tomatoes, red onion, black beans, and corn.
Evenly divide mixture between 5 jars.
Add a few chopped avocados to each jar.
Depending on how much cheese desired, place a few cut cubes into each jar.
With the remaining space in jars, pack as much lettuce as you can inside.
Close jar and seal.
Refrigerate for up to 5 days!!
*When ready to eat, simply pour contents onto a plate and enjoy OR shake jar several times to combine mixture and use a fork to eat from jar!! (makes 5 mason jar salads)
** You can add in some cooked chicken if desired! I try to cook two chicken breasts and shred them into the jars for some added protein.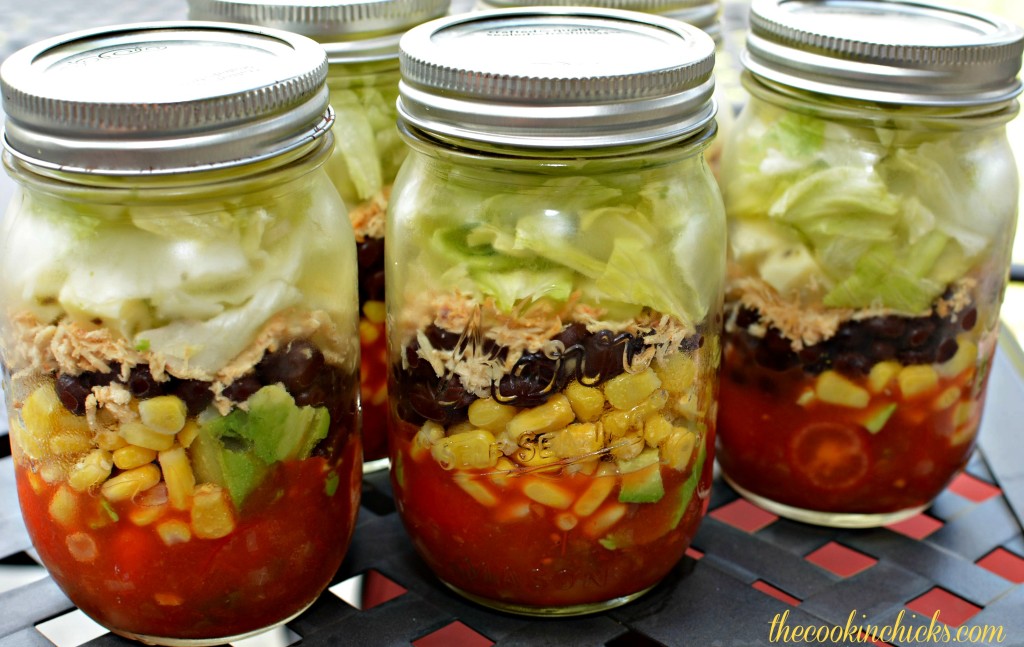 What are the benefits of preparing mason jar salads?
So many great benefits, some of which include:
WEEKLY MEAL PREP: You can make as many salads as needed for your week and simply grab and go! Plus, it helps keep the budget down since you are prepping ahead of time and won't need to go out.
HEALTHIER: Since you get to add all your favorite ingredients/toppings and make it your own, you get lots of veggies, protein, and won't be ordering that greasy take out.
EASY CLEAN UP: With everything in a mason jar, once you are finished eating the contents, simply rinse out the jar and place in the dishwasher. Clean up is a breeze!
SEVERAL VARIETIES: You can add any and every topping desired, add whichever proteins you desire, keep it Tex mex, or change it to Italian dressing. Caesar, Ranch, vinaigrette, and more!
What Mason Jar size should I use?
Since Mason Jars come in several sizes, sometimes it can be tough figuring out what size and width to buy. After lots of trials and testing out which is best, I have found that the wide mouth, 16-ounce jars are best because they fit lots of fresh, tasty ingredients and allow plenty of space for me to simply give the jar a shake to mix the ingredients together! THESE are the jars I use!
How long can I store these salads for?
As long as you place the lid securely on the jars and seal them, they should last in your refrigerator for up to 4-5 days. I tend to make a batch for my hubby and I and by Thursday, we switch to wraps or something else to give a change for the week.
What toppings should I add to my salads?
You can literally put anything desired into these jars, just remember that some produce does better than others as far as lasting longer. Avocados are great to add on just before eating to avoid them browning up. Below are just some of my tried and true favorites!
Lettuce
Onions
Beans
Quinoa
Edamame
Carrots
Corn
Broccoli
Spinach
Cucumber
Check out these other great recipes for quick meal ideas:
Roast Beef and Provolone Panini
Fiest Mason Jar Salads make a quick and easy meal option, especially for those busy days! Healthy, flavor packed, and budget approved! Print or save the recipe below and be sure to give these a try!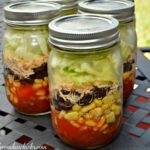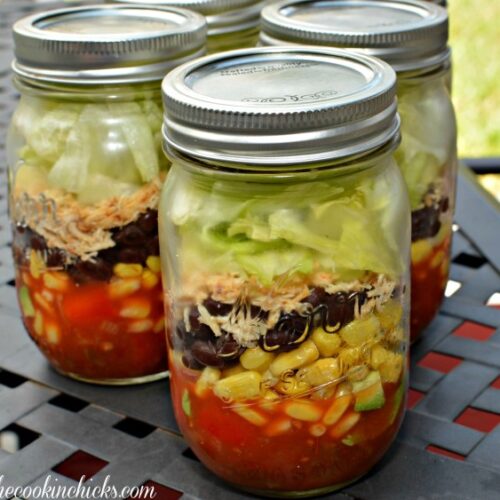 Print Recipe
Fiesta Mason Jar Salads
Add more salads into your weekly meals and make these delicious Fiesta Mason Jar Salads for the entire week in just a matter of minutes. Easy to make and packed with flavor!
Ingredients
1 1/4

cup

salsa

6

oz

Greek yogurt

*plain

1

cup

cherry tomatoes

*halved

1

red onion

*chopped

32

oz

black beans

*drained and rinsed

1

cup

frozen corn

2

avocados

*diced

Pepper Jack Cheese

*cubed

5

cups

Romaine lettuce

*rinsed and chopped
Instructions
Place 1/4 cup salsa on the bottom of each jar.

Add about 1 tbsp. Greek yogurt to each jar.

In a small bowl, combine the tomatoes, red onion, black beans, and corn.

Evenly divide mixture between 5 jars.

Add a few chopped avocado's to each jar.

Depending on how much cheese desired, place a few cut cubes into each jar.

With the remaining space in jars, pack as much lettuce as you can inside.

Close jar and seal. Refrigerate
Nutrition
Calories:
462
kcal
|
Carbohydrates:
68
g
|
Protein:
24
g
|
Fat:
14
g
|
Saturated Fat:
2
g
|
Polyunsaturated Fat:
2
g
|
Monounsaturated Fat:
8
g
|
Trans Fat:
1
g
|
Cholesterol:
2
mg
|
Sodium:
456
mg
|
Potassium:
1560
mg
|
Fiber:
25
g
|
Sugar:
6
g
|
Vitamin A:
4683
IU
|
Vitamin C:
22
mg
|
Calcium:
140
mg
|
Iron:
5
mg