I was browsing through Pinterest while my hubby watched football the other night. I happened to stumble upon a version of this and thought, hmmm….I could change some of the ingredients and make it even more tasty. So, with the challenge in my mind, I accepted it and lets just say, I won the challenge, hehe. This is so yummy and the slight crispiness of this makes it even more delicious. I just had some simple chips and salsa with this since the wrap itself has rice and beans in it already, so its a complete meal in itself!!!
Ingredients:
1 cup cooked rice (I used white, any version works)
1 cup cooked, shredded chicken (beef and pork work too)
1 can black beans
1 green onion, sliced
1 red pepper, diced
1/4 cup cilantro
1/2 tbsp chili powder
1 tsp ground cumin
1 tsp garlic salt
2 cups shredded cheese (I used Mexican blend)
Sour Cream
6 burrito sized flour tortillas
Directions:
Mix rice with chili powder, cumin, and garlic salt. Add remaining ingredients minus the cheese and sour cream. Sprinkle cheese over tortillas, leaving 1/2 inch border around the edges. Arrange chicken/rice mixture down center of each tortilla. Dollop some sour cream on top of chicken mixture. Roll the tortillas leaving the edges open. Spray or use butter on the tortillas seam.
Heat a skillet or griddle. Arrange wraps seam side down and cook 2-3 minutes per side, or until golden brown on each side.
Serve warm!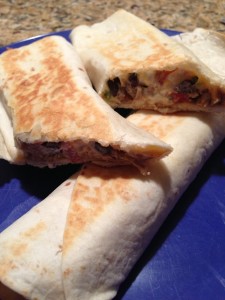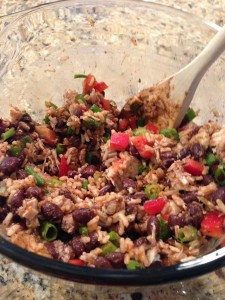 The "insides" of the wrap

Be sure to "like" us on Facebook!!