For the last few months, my hubby has been asking me to make a trifle. I used to make them all the time, but moved on to different types of desserts. Each time he would ask, I would tell him I would make one that week and then accidentally forget and not make one. Bad points for me, I know hehe!
Well, I was offered the opportunity to try out Bud's Best Caco Cookies and knew…this was my opportunity. My hubby is a HUGE cookie fan and always indulges in the "other" brand of cookies. I decided to test Bud's cookies out, but not mention it to the hubby. I wanted a true opinion from the avid cookie fan.
I whipped this up in no time using brownie mix (you can make them from scratch if preferred), Bud's Best Caco Chocolate cookies, cool whip, and cookies and cream pudding mix! The end result was fabulous and my hubby couldn't even tell the difference between cookie brands!! My kids LOVE these chocolate cookies and even have a few in their lunch boxes each day!
Be sure to check them out in the grocery store cookie aisle, and while you are at it….pick up the ingredients for this trifle. It's a must try!!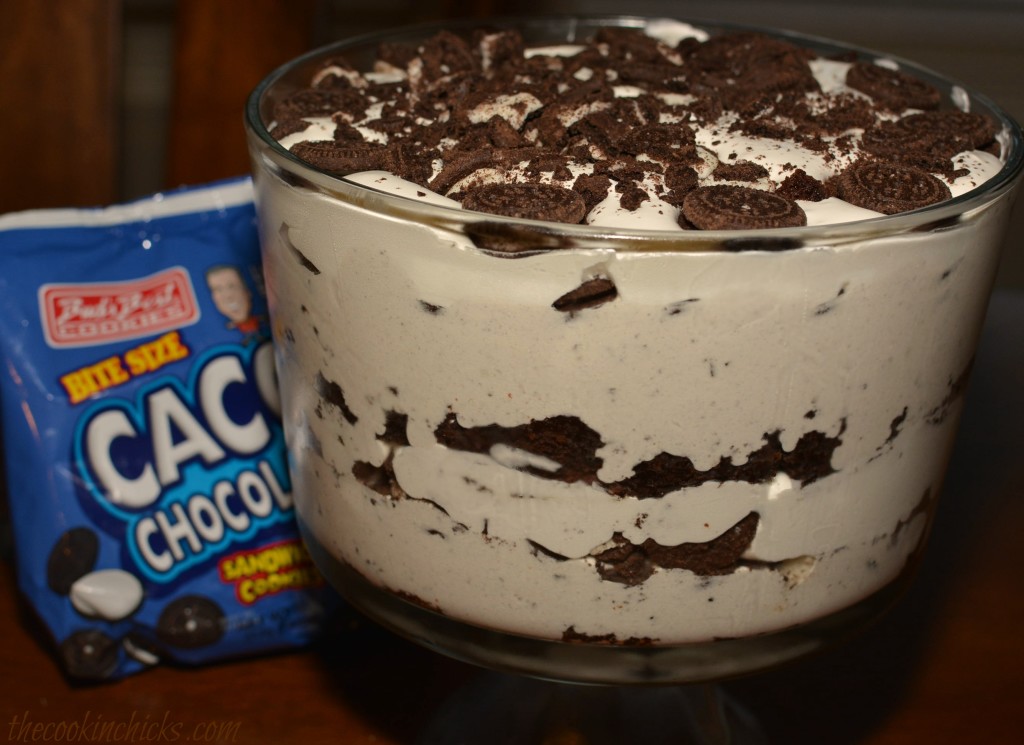 Ingredients:
1 box brownie mix (plus ingredients on box, 9 x 13 pan size)
4.2 oz. box cookies and cream instant pudding mix
1/2 cup water
14 oz. sweetened condensed milk
8 oz. cool whip
12 oz. cool whip
2 packages Bud's Best Caco Chocolate cookies
Directions:
Prepare brownie mix according to directions. (Or make a pan from scratch)
Bake brownies and allow to cool completely.
While brownies are cooling, combine the pudding mix, water, and sweetened condensed milk in a small bowl.
Whisk mixture for about 2 minutes.
Fold in 8 oz. cool whip and mix until white streaks are gone.
Place mixture into refrigerator until brownies are cooled.
To assemble trifle, cut brownies into 1 inch small squares.
Layer half the brownies on bottom of trifle bowl.
Pour half the cookies and cream mixture over the brownies.
Spread 1/2 of the 12 oz. container of cool whip over the cookies & cream mixture.
Crush 2 packages of Bud's Best Caco Chocolate cookies in a bag and sprinkle 1/2 amount of cookies on top of cool whip.
Continue pattern one more time ending with the crush cookies.
Refrigerate trifle until ready to serve! Enjoy!!