This afternoon I was making cupcakes for a "cupcake exchange party" I am hosting tomorrow. As I was going through recipes and ideas on Pinterest, I found an oreo cupcake recipe. It called for white cake, and me, being the chocolate fan I am, decided to change it around to a chocolate oreo cupcake!! I had my husband try one, since he LOVES oreos and cupcakes, and I was told "these go down as the best cupcakes ever". Wow!! What an accomplishment huh?? Im sure you will love them as much as we do!!


Ingredients:
One Box Devils Food Cake mix (plus ingredients mix calls for)
One package of Oreos (any flavor, I used original)
One container chocolate frosting
Directions:
Follow the directions on the back of the cake mix to make the cupcake batter. Once prepared, take your muffin tin and fill with liners or grease. Take batter and fill up each cup about 1/3 high. Place one entire Oreo in each cup on top of batter.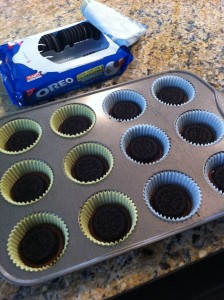 Cover Oreo with remaining batter filling entire muffin cup about 2/3 high. Bake in oven according to directions on back of the box. Once the cupcakes are cooked and cooled, take frosting and frost the cupcakes. In a bag, place some Oreo cookies inside and mash with your hand a few times. Sprinkle the Oreo crumbles on top of the frosted cupcakes. Enjoy!!