For many years, my husband has been telling me about chocolate covered cheesecake bites that he used to buy from the frozen section of the grocery store. I believe the brand was Sara Lee, but they had been discontinued. Since my favorite thing is cheesecake, the idea always intrigued me and I knew that I had to try making them from scratch. Last week, when I asked what he wanted for dessert, he said he was in the mood for cheesecake. We decided that we would try making the cheesecake squares, and so that night, we tried it out! It was quite simple to make and let me tell ya, these things are AMAZING!!!! They have so much flavor, were quite simple to make, and since they are cut into little squares, they can go into the freezer and last for many days!!
Ingredients:
1 cup graham cracker crumbs
1/4 cup pecans, chopped fine
1/4 cup melted butter
2 packages (8 oz) cream cheese
1/2 cup sugar
1/4 cup sour cream
2 eggs
1/2 tsp vanilla extract
24 oz semisweet chocolate chips
3 tbsp shortening
Directions:
Line a 9 inch square baking pan with tin foil and grease the foil.
In a small bowl, combine the graham cracker crumbs, pecans, and butter.
Press mixture into the prepared pan.
In a large bowl, beat the cream cheese, sugar, and sour cream together.
Add in eggs and vanilla extract.
Once combined, pour cream cheese mixture on top of crust in pan.
Bake in preheated oven, 325, for about 35 minutes, or until the center is almost set.
Remove pan from oven and allow to cool.
Place pan in the freezer overnight.
In a microwave, melt the chocolate and shortening. Heat in increments of 30 seconds to avoid burning the chocolate. Heat until smooth.
Lift the cheesecake out of the pan using the foil edges.
Gently peel off the foil and cut cheesecake into 1-1 1/2 inch squares.
Dip each square into the melted chocolate using a toothpick.
Place on a piece of wax paper to allow to set.
Store in an airtight container either in fridge or freezer!
Enjoy!
*You may want to keep the cheesecake squares in the freezer until you are ready to dip them. Take a few out at a time so they don't begin to thaw, making it hard to dip!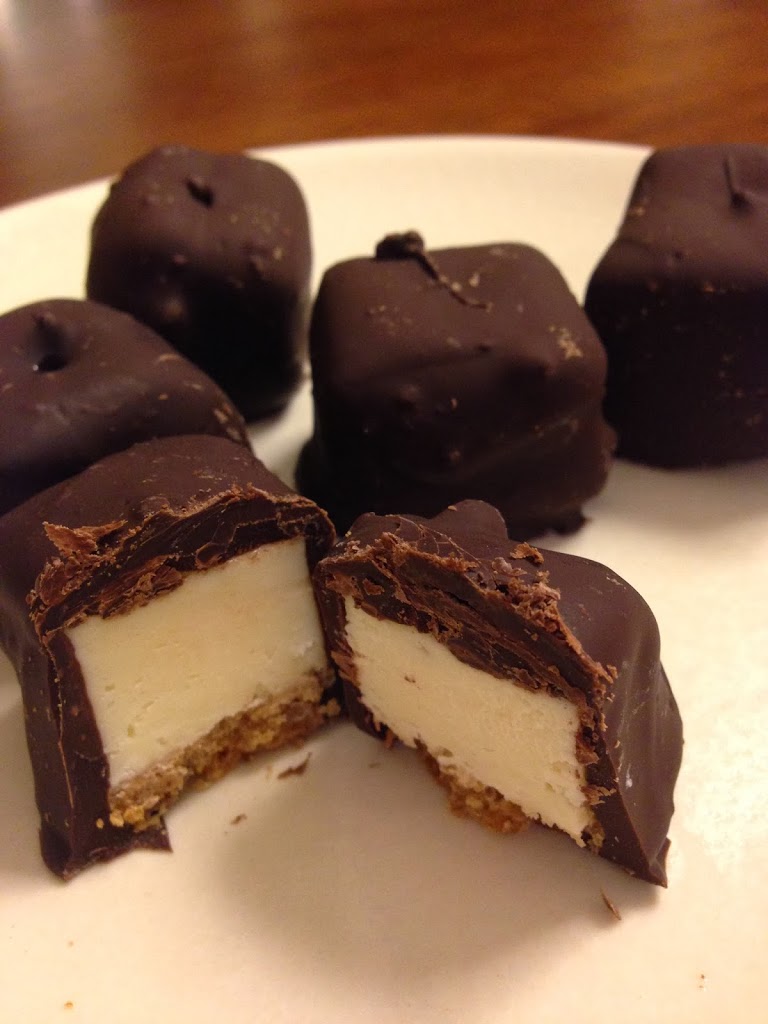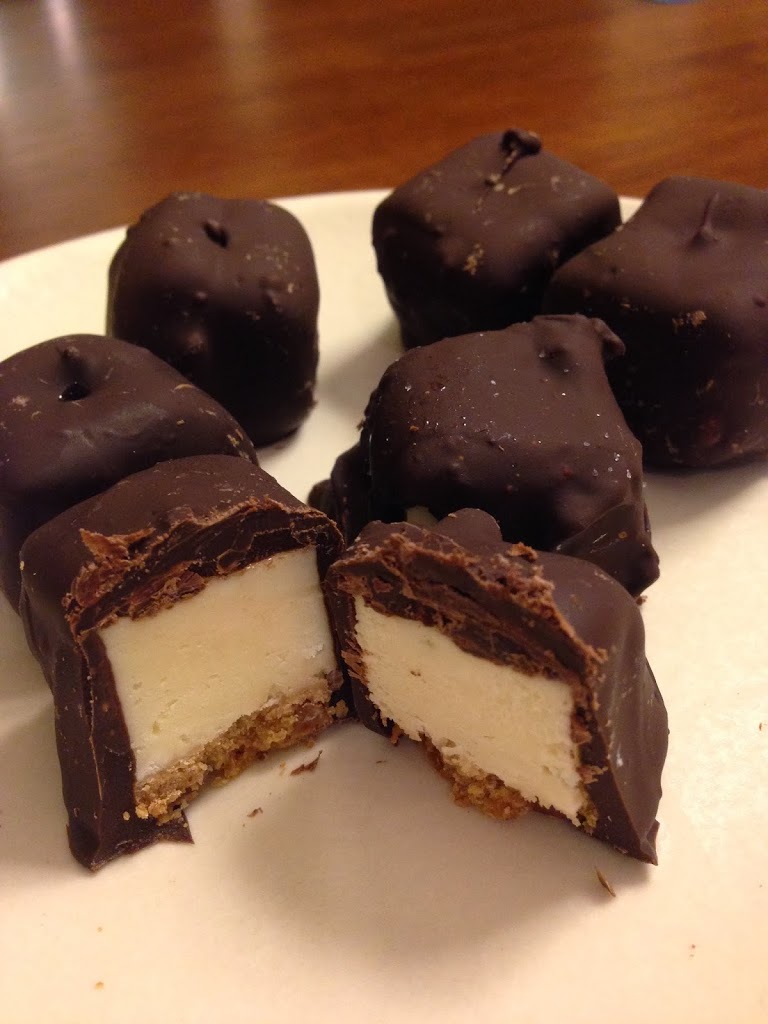 [AdSense-A]